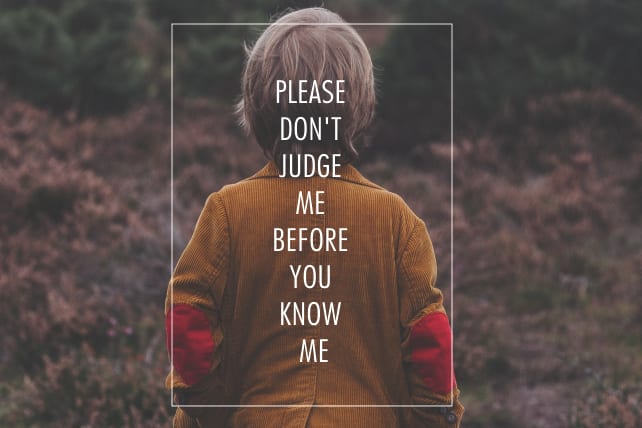 Don't judge me before you know me.
I'm not the same as you.
I've had a strange upbringing,
One which you never knew.
My life's had little structure,
My home is not real safe.
I go to sleep each evening,
With a frown upon my face.
Cause Mommy's still not home yet,
And Daddy, well, who knows?
He left and never came back,
A long, long time ago.
There's lots of men around though,
Different ones all the time.
Some of them are nice to me,
Others make my mommy cry.
Sometimes I may talk trashy,
And get onto your nerves.
But I don't see what's the big deal,
Cause that's all I've ever heard.
I like to come to church though,
It's a place where I feel loved.
The people there are friendly.
And they never push and shove.
Sometimes they gently get on to me,
For not always being there,
But I try my best to wake up,
When no one else seems to care.
Today I went to Sunday School,
My teacher taught God's Word.
I'd never felt that way before,
From what I saw and heard.
I gave my heart to Jesus today,
He wrapped me in His love.
He took all of my sin away,
And gave me Heaven above.
I'm worried about my Mom though,
I don't think that she's been saved.
I hope that the church people,
Will care about her the same way.
My life has been a rollercoaster,
Rarely a place I belong,
But I'm thankful for the church people,
That I've known I can always count on.
Please don't judge me before you know me,
I'm really a lot like you.
I need to be loved and wanted.
It's just not something I'm as used to.
Every week at churches across the nation, children are picked up on a church bus from unchurched homes and given an opportunity they might not otherwise have to know Jesus. Would you please pray for the kids and the bus workers this week? If your church has a bus ministry, would you prayerfully consider serving in some way?
This article originally appeared here.