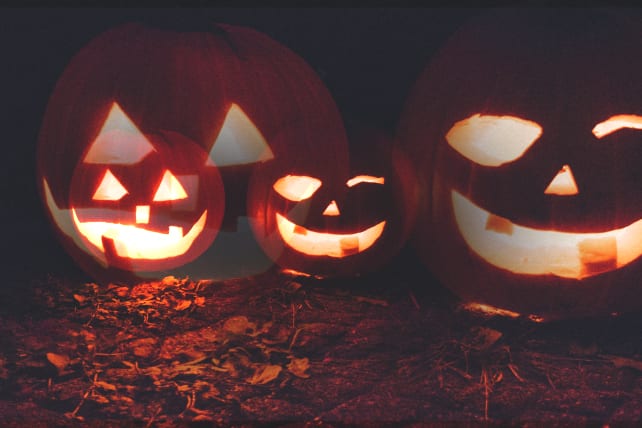 Halloween can be a very divisive holiday for Christians. There are people who think they should not celebrate in any way, and stay home with the lights off. And you have people on the other end of the spectrum who go Trick-or-Treating.
Growing up in the church, and my parents being Children's Pastors, I was always at church on Halloween. They called it Hallelujah Harvest. Looking back, Hallelujah Harvest was a lot of fun, and we always got tons of candy. But, there was always a small part of me that felt like I was missing out.
Once I had my own kids, I did not want them to feel like they were left out of something. So, my husband and I decided that we would take our kids Trick-or-Treating.
That was, until last year.
I took my then 2-year-old daughter and 4-year-old nephew Trick-or-Treating around our neighborhood. We had moved into our house about four months earlier, so I didn't know a lot about our neighbors or neighborhood. I did notice that a lot of them decorated for Halloween, so I was excited to give my daughter what I thought I had been deprived of.
We started walking around, and my daughter, who is very outgoing, loved it! She loved going up to people and knocking on their door and asking for candy—her favorite food group.
(One thing to note about Andi is that she is fearless, which is a great trait to have. She was never one to hang onto my pant leg. She walked up to strangers as if they were her best friend.)
About 20 minutes into our Trick-or-Treating adventure it started to get dark, and we walked up to a house that was decked out! I am talking they must have spent a small fortune decorating their house for Halloween. They even had a small skeleton that talked and moved when you walked past it.
I didn't really think anything about it. But as Andi was running up to the door with her cousin, James, she stopped in her tracks. She was terrified. Up until this point I had never seen her scared. She ran back to me and I walked with her up to the front door. The owners of the home were very nice and not scary at all. But Andi squeezed my arm when we had to walk past the skeleton again.
It was in that moment that I understood why so many parents wanted a Halloween Alternative. My daughter is not prone to being scared, she jumps into everything head first. Yet that night, everything within me wanted to protect her from this fear. I instantly understood all those parents, who I had previously thought were crazy, who kept their kids home on Halloween.
We cannot protect our kids from fear, it will come. There are scary things in the world, but we cannot be moved by fear. Let's teach our kids what to do when they feel scared.
I cannot tell you what you should do in your church. I can give you several different options that you can do for you church.
That is why I wanted to write this eBook. I know how to throw a great Halloween Party. I also knew that there were other great options out there as well. I had never heard of a Trunk-or-Treat until I was in college. So, I asked a couple of my friends who had put on successful Halloween events. I asked Charles Crowder if he could write about what their church does. They have had tons of people come to their Trunk-or-Treat every year.
Trick-or-Treating isn't all bad either! My friend Sam McCullough does a Halloween Outreach every year. They pick out houses along high traffic Trick-or-Treating routes and stock them up with games and awesome candy. This is a great way to meet people where they are and pour into your community.
CLICK HERE to get your FREE eBook!
P.S. We also have written a four-week curriculum named FEAR. When you get the eBook, you will also get a coupon code for 50 percent off our FEAR curriculum!
Our curriculum, FEAR, teaches your children to be courageous while facing their fears. You will never be able to protect your kids from fear. BUT, you can teach them what to do when they encounter fear!
P.P.S. We made a free coloring page! CLICK HERE to download.
This article originally appeared here.