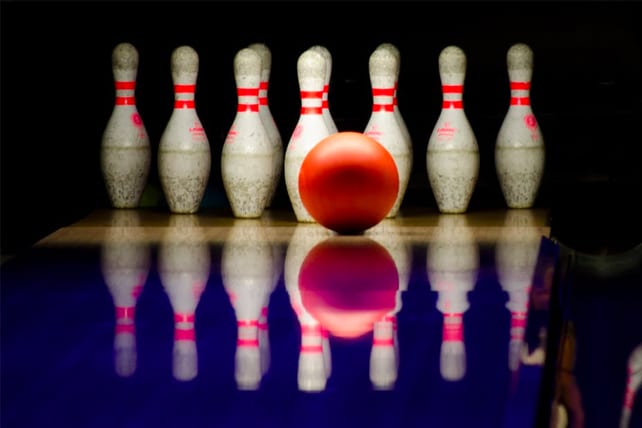 For the last several years in our church, we have hosted a daddy daughter date night. It was a special time of celebrating the unique bond that a dad has with his girls. Little girls loved dressing up, fathers took special care to write notes and select special songs to be played, and good food, dancing and lots of talking was enjoyed by all. As you can imagine, this event was an annual favorite.
However, I recently started hearing from mothers that they wished there could be something special for them to enjoy with their sons. After all, while mothers tend to spend a lot of time with their kids, they don't often get a chance to just relax and enjoy their children while someone else does all the planning and work to make memories happen.
The Mother + Son Bowling Bash was our solution to this dilemma. Just a few weeks ago, we rented out more than half a bowling alley and paved the way for over a hundred mothers and sons to put on their bowling shoes and have a ball (pun intended…I know, that was bad).
In this blog post, I want to share with you all the steps we took to make this a successful event. Feel free to take it and make it your own. I realize that every church has a unique make-up and culture and that things work best when you tailor it to fit your own situation. My desire is simply to equip you to help the mothers and sons in your church connect in a meaningful way.
We have also found that the Mother + Son Bowling Bash presents a unique opportunity to invite unchurched friends into a church event that is not intimidating. Some people may hesitate stepping their foot inside the church building, but they would be happy to share a lane and have a good time with their friends.
That's why from the very beginning we made it clear that this event was designed for two things: 1) to give moms a chance to play, laugh and create special memories with their sons through bowling, eating pizza and even competing for prizes, and 2) to provide a fun environment where they could enjoy the company of their friends (we put a special emphasis on inviting unbelievers but all friends were welcome).
The following is all the steps we took to make the Mother + Son Bowling Bash a success in our church and some tips + tools to make it work for you as well:
BEFORE THE EVENT
PROMOTION:
Save the Date cards (eight weeks before the event)
Pre- and post-service slides (five weeks before the event)
Posters—place them in your church halls, bathroom stalls and community spots (libraries, martial arts and dance studios, gyms, farmers' market, community bulletin boards, etc.)
Church bulletin (five, three and one week before the event)
Your church's web-site and Facebook page (five weeks before the event)
Your children's ministry Facebook page (five weeks before the event)
Emails to parents (eight, five, three and one week before the event). Make sure not only to give event information, but also to paint a picture of the beautiful impact this event can have on the relationship with their sons.
Printed postcard invitations (six weeks before the event)
Moms' social media channels. Encourage the moms in your church to use their social media platforms to broadcast the event. Provide them with eye-catching graphics to include in their posts and examples of the verbiage to use.
NOTE: Don't forget to download Event Promo Pack that contains customizable graphics that you can use to promote your event.
REGISTRATION:
Start sign-ups five weeks before the event.
Register people only AFTER they have paid the registration fee. Otherwise, you'll waste a lot of time chasing after people who put in their names but not their dollars, reminding them that they still need to pay.
If your budget allows, make scholarships available for single moms and for other families who might need them.
Make it clear that aunts and grandmothers are most welcome to attend this event with their nephews and grandsons.
While registering moms, encourage them to think of any unchurched friends with sons whom they could invite. If moms can't think of anyone, encourage them to ask their boys if they have friends that they would like to invite. Give them postcard invitations to pass on to their friends.
When we did this event, we charged $20 per each mother/son team and $5 for each additional son. Registration fee included unlimited games, pizza, drinks and shoe rentals.
When we originally planned this event in our church, we promoted it for kids ages 5 through upper elementary. Since we had a few extra lanes on the last week of registration, we opened it up to mothers and sons of all ages and ended up with a couple of toddlers and sons in their mid-20s. This worked out very well and didn't cause any discomfort.
THE EVENT
EVENT TEAM:
GREETERS / PIZZA DELIVERY / SET UP / CLEAN UP / TEAM SPIRIT JUDGES:  Two people (a couple would be ideal) with warm personalities. They will need to:

Show up 30 minutes before the event to set up the room where you'll be serving pizza and drinks
Greet people, hand out event schedules
Bring and serve pizza
Do the clean up (very minimal)
2. MC: This most likely will be the children or family pastor. Your main job is to be there, make sure everyone is having a great time, and together with the greeters choose the winner of the Team Spirit contest
3.  PHOTOGRAPHER: Shows up 15 minutes before the event to scout an area for pictures of the mother/son teams (these will be used to judge the Team Spirit contest). They will also be responsible for candid pictures throughout the event.
ENVIRONMENT:
1. This is one of the easiest events to put together. Bowling alleys have their own unique ambiance, so we didn't think any decorations would add value to the environment. We skipped the decorations and no one missed them.
2. I had a portable sound system that allowed me to play background music and make a couple of announcements during the Pizza Party.
3. Moms' and sons' Team Spirit attire added an extremely exciting spark to this evening setting it apart from a regular bowling event. I encourage you to do a team spirit contest at your event too. I'll talk more about this in Helpful Tips.