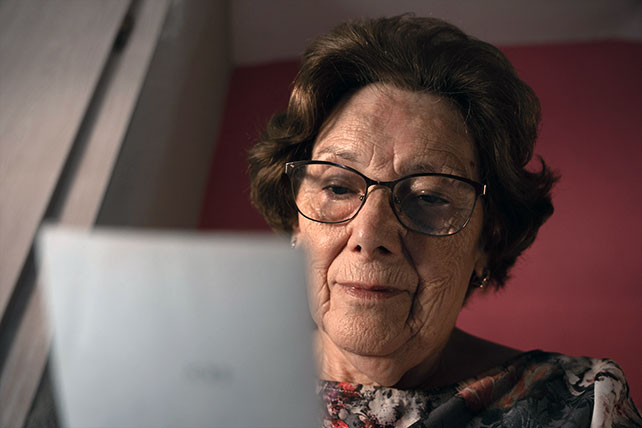 She finally decided to clean out his desk. He's been gone for almost five years, and she has walked past it multiple times a day every day since then, picturing him sitting there doing his work on his computer, a device that she has never had much interest in. Yet it amazed her, the way he could maneuver the Internet. The way he could keep their finances organized and keep their investments in order. The way he would bring her news of their family and friends as he discovered it on social media. The way he would print off stories he knew she would like, or would call her into the room to have her listen to him read some bit of news or some sentimental tale that he knew would make her smile. When she thinks of him in his later years, she sees him there, at his computer, just down the hall from where she bustles around the house. She remembers the secure feeling she had, knowing he was close by, knowing she was loved by a good man for more than half a century.
She often tells me stories about their young life. She talks about trials and struggles. About the wild adventure of bringing up five children, and about the great love that the two of them shared, year in and year out. She shows me pictures, always commenting on how very handsome he was. And she praises God for the time they had.
When he died on a September day, she knew she would have to grow accustomed to the silence. He would never again call her into his office to listen to some piece of news from a faraway friend. In this life, she would no longer hear his voice. They had no more opportunities for exchanging words of love, for reminiscing about a long life that they both knew by heart. On this side of Heaven, there would be no more exchange of ideas, no more checking on each other, no more walking down the hallway to find him sitting at his desk.
Maybe it was this painful reality that caused her to wait five years before she started going through the papers in his office. She told me that she sat down one day in the chair that he had so often occupied, and she began cleaning out drawers. She found things that were not important or useful. Like all desks, this one was filled with things that could easily be thrown in the trash. But she also discovered stories he had printed for her, things she had forgotten about, like song lyrics and other little items that made her laugh or cry or smile to herself. And then, tucked unassumingly in the bottom of a drawer, amid lots of papers that weren't all that important, she found something she never expected to uncover: an unread letter from the love of her life.
He had written it at Christmas, several years before his death. Why he never gave it to her is a mystery. It seemed to have been slipped into a drawer among lots of other papers. Maybe he forgot about it. Maybe God kept it safely stowed there to give His own beloved daughter a gift that He knew she would need.
She unfolded the paper and could hardly believe the words she was seeing. Tears blurred the greeting at the top of the page, yet she could still make out his hello from some Christmas past: "Dear Bright Eyes."