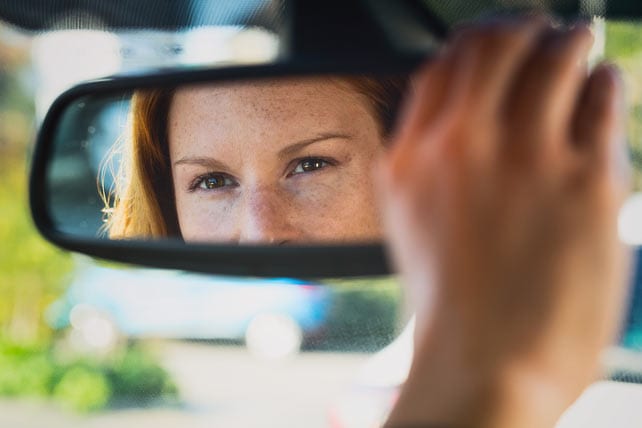 Are you living in the past? If there's something from your past that you are holding on to, there's a great chance you haven't attached yourself to something new in your present or toward your future. As long as you are exposing yourself to whatever that past is, it's going to be really hard to let it go.
According to many psychologists, lots of people are actually addicted to living in the past. You can see this with fashion. Have you ever walked into a store and right away you can tell when their best decade was? Their hair or clothes haven't left whatever decade they thought was the best. They refuse to move on to the future.
"The past is nothing more than a story we tell ourselves. Continuing to tell that story, verbally or non-verbally, eventually turns it into a reality." —Tom Ferry
So much of your future is sabotaged by living in the past.
When we live in the past it does so much damage to our future. So much of our future is spent trying to cope with our past. Many of our addictions started out as coping mechanisms to our past.
A big idea for this chapter is…
You will miss your future by living in the past.
No matter if you love your past or you hate your past, the truth of the matter is, you cannot change your past. Dwelling on your past only leads to regret. And regret is the number one enemy of happiness.
The Bible has something significant to say about living in the past. The verse we are about to look at is written by the apostle Paul. Now, what makes Paul an expert to talk about what we are talking about is the fact that he had a past. Paul's past included arresting Christians and approving in the execution of Christians. Paul becomes a Christian, but he was such a bad man that many of the first Christians to meet him were afraid that he was going to turn them in. So, Paul has a past. He's not some shiny perfect person who has lived a perfect life. He's got some baggage. But look at what Paul writes to some of his favorite people, his friends in the church of Philippi.
I want to know Christ—yes, to know the power of his resurrection and participation in his sufferings, becoming like him in his death, and so, somehow, attaining to the resurrection from the dead.
Not that I have already obtained all this, or have already arrived at my goal, but I press on to take hold of that for which Christ Jesus took hold of me. Brothers and sisters, I do not consider myself yet to have taken hold of it. But one thing I do: Forgetting what is behind and straining toward what is ahead, I press on toward the goal to win the prize for which God has called me heavenward in Christ Jesus.
All of us, then, who are mature should take such a view of things. And if on some point you think differently, that too God will make clear to you. Only let us live up to what we have already attained. (Philippians 3:10–16)
When Paul wrote this, he was sitting in a Roman prison for simply telling people about Jesus. He was persecuted for his faith in Jesus. He eventually was martyred for his faith. And yet while sitting in a Roman prison, Paul didn't reminisce about the past. Look at what Paul said again.
I want to know Christ—yes, to know the power of his resurrection and participation in his sufferings, becoming like him in his death, and so, somehow, attaining to the resurrection from the dead. (Philippians 3:10–11)