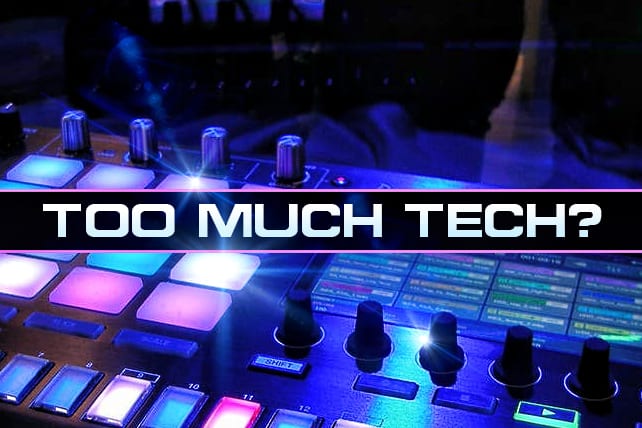 But we have this treasure in jars of clay to show that this all-surpassing power is from God and not from us. 2 Corinthians 4:7
A person is always a better investment than a technology.
My first huge ministry job when I was green as moss on the shady side of a redwood tree, placed me in a megachurch with a brand-new, state-of-the-art worship center. I was the guy who got to break in this beautiful room. The 150-plus light fixtures on the five catwalks at this point had no gels in them and were opened as wide as possible, washing the front church platform in blinding light. The joy of developing a team to aim the lights and design looks for our services was one of the first tech accomplishments. The other was realizing that the back of the stage looked ugly. Two large doors to storage areas were there with bare walls. The staff leaders and I decided that adding curtains would enhance the room, adding appropriate contrast so our pastor and worship leaders would appear less pasty.
Our vendor was terrific with explaining all of our options. But, one awkward moment with my boss and me was memorable. "Why do you want to automate this curtain? Don't you have volunteers who can easily open and close the curtain?" You see, we could save money. But, money was not our issue. We looked at each other and almost gasped. Of course, our thinking about tech was all about making things "efficient," and perhaps we were putting this value above what we thought a church should be all about. Factories need progressing efficiency, but families need loving relationships. People feel loved when they belong, and what better way to extend a relationship than to invite a person to serve and pull the curtains open and closed?
Reject the addiction to perfection and efficiency.
As one example, if we build a church music ministry around using multitrack loops to make our less talented musicians sound better, we might miss the opportunity of giving them lessons. It is efficient for a larger church with multiple teams to have the security that their track will compensate for lack of skill when it needs to. It is inefficient to teach music. It is efficient to use a loop. Now, using a loop to sweeten the sound is sometimes a very good idea. But, what if you could have dozens of more musicians who are competent covering all of the parts? What if you began with that 13-year-old in the youth band instead of pushing for perfect execution? In time, what seems inefficient might build something more lasting than a flawlessly executed song set. What if the goal, even in how you do ministry, is to invest in people—both skill and heart?
When the volunteer who opens and closes the curtain misses his or her cue on one of your largest services of the year, it is almost guaranteed that the gravity of choosing automated curtains is the after-service conversation. For those of us who work in the production and tech areas, are we charged with deepening people or simply efficiency and excellence? Gear addiction may describe anyone in any role these days. For instance, I love our electric guitar players and how a new pedal might be bragged about equally as cyclists geek out over new composite forks. When we are talking about hundreds of thousands of dollars with our church tech upgrades, it is important to check our excitement for the tool at the door. Might we endeavor to show the same amount of excitement for our team?
Reject the tech-inferiority complex.
One reason I write about this is because I am part of the problem. It is very easy to be captivated by the tools. My laptop, smartphone, nerdy apps and my judgmental views on how others adopt or reject tech all make for a wired soup. We can chase this addiction to the point that we are envious of what other ministries practice. When another church ends up with a $600K LED wall, we can also see that some churches might spend millions and put them on their ceiling! In other words, you can never quite keep up with the Jones Community Church next door. This is nothing new. Imagine in past days churches comparing the size of the pipe organs or beauty of their stained glass. When we give up feeling inferior, we can enjoy and utilize the tech we choose and can afford. Additionally, when we build into people, we set our success with a biblical metric. We all know that people are what lasts.
Tools are there to serve people. If we simply try to add people to a tool, we dehumanize them. For instance, a guitar player who cannot play the new sound might have to get a new gear setup. What do we do to train that individual? We should be able to point them to ways they can learn—even our own time, as the worship leader. You can be the coolest tech church and be great with people. I would rather us envy our neighbor church that did better than us with people than the one who had better gear. In reality, a great group of musicians probably sounds nearly as good on cheaper gear, right? And, the hearts of worshippers are not measured by how fantastic our lighting set-up is, either.
You can be the coolest tech church and be great with people. I would rather us envy our neighbor church that did better than us with people than the one who had better gear. But, this is not saying both are possible. It is saying that people should come first.
Reject the tendency to only think big.
One of the wisest man I had the chance to spend time with told me a story of how their new worship leader overused laser lights in addition to choosing an awkward opening song for Easter. "Carry on, My Wayward Son," perfectly played to an exciting array of lighting tricks, fell flat with audible groans from parishioners and pastor. It was the last straw for this well-meaning worship leader's attempt to be relevant. Against the advice of the team around him, he insisted on this lighting design and song choice. He soon was no longer employed at the church.
Don't forget to think small before you think big. The budding megachurch installed state of the art lighting gear, which gave the opportunity for EDM rave level light programming—albeit to a song not really well-chosen. However, just because you can do something doesn't make it the right thing to do. The remaining team had been at this church for many years—back in the days of the school gym and cafeteria. There was a phrase that they learned to live by: "Worship has to work under the glare of cafeteria lights before we add all that fancy stuff." I am paraphrasing a bit, but the principle is clear. The fundamentals have to be there before we reproduce, project, orchestrate, brand or build. 
Yes, we must use the best tools available.
If we lose our heads and think tech is the answer, our people will suffer. This is not to say we should shun technology. The point is that people come first—both the ones that experience the tech and also the operators.
Our investment in gear as houses of worship is large enough to equal and exceed all other meeting venues in the United States. This means that industry loves us! We buy lights, sound, video and streaming technologies to expand our reach and enhance the message. The gospel must live in the modern world and be told with the new tools available to us. But, when we look to put our dollars out for this stuff, let's remember to invest in people, too.
This article originally appeared here.