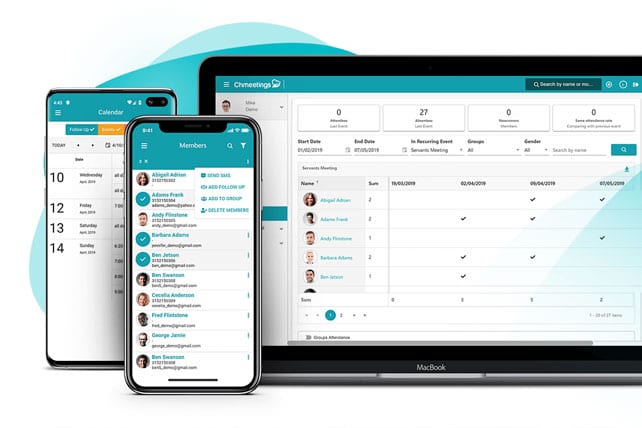 Church leaders must fulfill their role and be always prepared to serve the needs of their members. A good church leadership should be completely aware of what's happening with his people. Digital technologies fill the gap between the church leaders and their members by helping the leaders in collecting the members' information and storing them all in a single database. Planning and organizing the worship services, attendance, church events (and registrations forms), servant's tasks, announcements, small groups management, contributions and online giving are all perfectly managed as well. Technology is simplifying  the church management solution, enhancing the way church leaders, congregations, and ministers and staff care for the flock of God.
A good church management solution should provide the following
1)    Easy access to member data:
Church management technologies have a common feature that allows the church leader to store important information about each member in a single (cloud-based) database, so leaders can easily access any needed data—from anywhere.
2)    Effective communications:
Every church leader should have the ability to communicate quickly with members in an affordable and easy way. A church management solution could be integrated with many communication platforms, enabling users to send text messages from their PC, laptops, or smartphones. This keeps church members (and also the volunteers) always connected with their church, notified of the activities and events, and even confirms their participation when needed. Emails push notifications, and even voice messages are available to speed up the collaboration between all the church members.
3)    Following up:
The leader should have the ability to track member's attendance, make a report of those who are no longer attending frequently, and plan with the staff to keep in touch with these members by using different types of follow up.
4)    Events planning & organizing:
Leaders could easily schedule and plan upcoming services, activities, and events like Sunday School, Bible study, youth camp, volunteer meetings, music rehearsals or concerts, and even fundraising activity directly by using the church management solution.
5)    Reports:
Church leaders can effortlessly use ChMS apps to create any kind of reports, with accurate information to be analyzed to take the needed actions accordingly.
6)    Forms:
Forms allow churches and ministries to create custom forms for all aspects of church life. Submissions could be linked with a person's profile. Forms could be used in Event registration, Feedbacks, Surveys or polls.
7)    Contribution and online giving:
The church leader should have an accurate and secure way to manage and track the contributions, online giving, plus the ability to create the reports vein just a few steps.
You will find all seven of these features and even more in ChMeetings App, the easiest and most affordable church management solution on the market. It's a cloud-based solution used by more than 3,500 church leaders. It is available on Web, iOS and Android.
FinancesOnline awarded the ChMeetings app both the 2019 Rising Star and 2019 Premium Usability awards. It was also named the Top Rated Church Management Software) by Softwareworld, And received a rating of 4.7 out of 5 on Google play and the App store.
ChMeetings will help you to handle all your essential needs of your church management operations, and save a huge time and effort to be used in guiding your followers on their path to the spiritual growth with God.