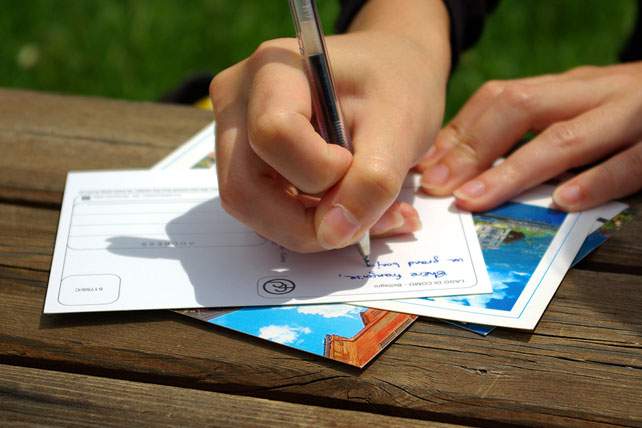 Church communicators have been some of the unsung heroes of the current pandemic crisis. With little notice and often no training, they've learned how to move ministries online, stream church services, and create digital bulletins and connection cards. Many have also relearned the value of some non-digital tools of the past that along with these new tools will most likely last longer than the pandemic. For me and for many others one non-digital tool is postcards.
Why postcards and how have they become newly useful?
Our church, like most others had to quickly figure out a way to get the service online and they did, but I wanted a more personal way to contact people, to encourage them, to let them know God loved them and was with them.
In the past, I often recommended postcards as a key outreach tool, but it had honestly been years since I'd done that. But during this time when people were isolated and I couldn't call them all, I remembered postcards. I'll briefly share what I did and following that I'll share some links to what others have done with postcards.
My experience with postcards
I created the designs in Canva (www.canva.com) with  the custom design size of ¼ of a sheet o8 ½  x  11 in. paper. I then downloaded a jpg version and placed it into MS Publisher using the postcard template and printed them out on cardstock. (You can see the initial set here.)
I could have also used pre-perforated postcards from Avery you can run through your home printer to create them.
I thought these would be useful, but I was amazed at the response—people I hadn't heard from personally in a long time contacted me and I was especially happy to hear back from younger friends more thanking me for them and telling me how encouraging they were. I've gotten far more responses from postcards than from any of the social media I've done and sent out, including social media where I used some of the same images.
How some others have used postcards during the pandemic
One community center created and sent out postcards and were so overwhelmed with the response, they have made it into a public display. They described it this way "It absolutely has been a fantastic public outreach and a way to connect the whole community."
If people need help on how to write a postcard, here is a delightful article with the specifics of how to write a postcard by a poet. The title sums it up his theme: "Postcards can ease pain of isolation during coronavirus pandemic, a quick personal note can mean a lot to those living alone to protect themselves from the virus."
One idea for a Children's Ministry use of postcards, would be to look at this NPR project where they asked parents to send in postcards drawn by children during the pandemic. You can have your child draw a card directly on them or you can draw and image, scan it into your computer, place it in a program such as MS Publisher in the postcard template and you could print off a number of the postcards with your child's (or yours, you can do them also) drawing on them. (Here is the article with ideas.)
Here are ideas of what some professional artists are doing to create pandemic-themed postcards
Liz Malanaphy's delightful postcard designs—simple illustrations including her toilet paper doodle "Wishing you abundance and absorbency!" are wonderful and fun.
For Liz Lane, a cancer survivor, receiving a postcard was very meaningful to her when she had to isolate due to cancer. With the pandemic restrictions, she realized many people might be in the same place and created this line of postcards.
A keeper communication piece
It seems odd that it took a pandemic to remind us once again of the power of personal communication: high-touch over high-tech. When someone gets a postcard they typically totally focus on it and are alone when they read it. Remembering that reality is what makes them a powerful communication tool now and long after the pandemic is primarily a memory.