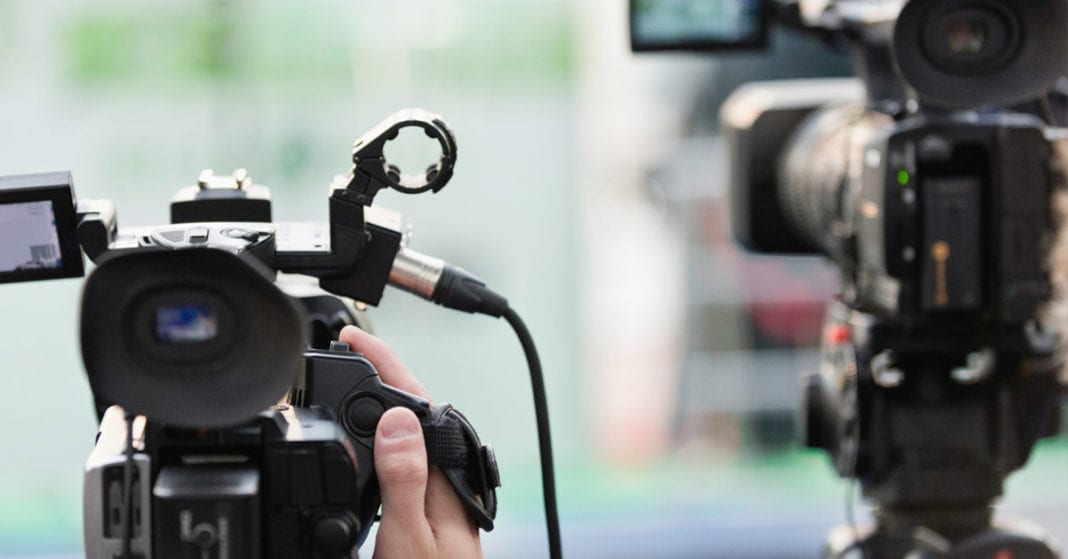 Today, thousands of churches have multiple cameras but they aren't producing for television – they're producing for live stream audiences and the IMAG screens (image magnification) in the sanctuary. I've written before about live streaming, but today, I asked my friend Clay Jacobsen to write a guest post on how to direct for the IMAG screens in the auditorium or sanctuary.  Clay has been in the television industry for many years, directing live concerts, talk shows, variety shows, telethons, beauty pageants, and sports. Some of Clay's credits include: Entertainment Tonight, The Jerry Lewis Telethon, Dennis Miller, Prime Time Country, CMA Red Carpet and many more. He's also a published author, having written 4 Christian thrillers dealing with behind the scenes of Hollywood. So he's an expert when it comes to multi-camera direction. Here's his thoughts on directing for IMAG screens:
CLAY:  There's one directive I've consistently given when sharing with people who have a desire to direct in the television industry, Direct With Purpose.
All productions require you to draw your audience in and engage them, but each genre requires a unique approach to how that should be accomplished. If you're directing a drama—your purpose is telling the story. If you're directing a concert—your purpose is to enhance the musical experience and show the performer in the most flattering way possible, without distracting from the music.
And what is your purpose if you're directing IMAG screens for your church services? From the purely technical position, your job is to augment the congregation's live experience by giving them a closer view of what's happening on the platform than they can get from their seat. But there's a lot more going on because you are now part of the team that is working to present the spiritual message for the day. Don't take that lightly.
Directing for Church IMAG Screens – The Don'ts
With that thought in mind, let me offer a few Dos and Don'ts that should help you along that path. Let's start with the Don'ts:
#1 Don't Distract!  – What's on IMAG screens should augment what the Spirit is doing in the service, not pull people away. Often times, simpler is better. There's a temptation to show what great directing chops we have and show all these great angles or cut in thirteen shots in less than ten seconds. But ask yourself, will that enhance the spiritual flow of the service or distract from it?
That is sometimes a very difficult question to answer. During worship, I would think we're hoping that people are being drawn into the Lord's presence not watching the video on the screen anyway. Learn to be led by the Spirit yourself. Maybe at the most intimate times in worship, you put nothing on the screen—be open to that.
And be aware of physical distractions off screen as well, like having hand held camera operators running all over the stage or the jib camera hanging just over the pastor's shoulder. You might get some great shots, but at what cost to being a distraction? Sometimes it'll be worth it—often times not.
Just a quick disclaimer, this rule might be less of an issue if you're church is reaching out to millennials and your entire worship service is full of moving lights, smoke and video screens all over the stage. In that case, you'd have a lot more freedom in your directing style without fear of distracting.
#2 Don't Use Wide Shots, EVER! – There should never be a shot of a person on screen that is the same size or smaller than that person appears on stage to the people sitting in their seats.
I see this rule broken almost everywhere IMAG screens are used, not just in church services. Think about it as if you're sitting in the service. What point is there to looking at the screen if your naked eyes are giving you a better view?
Now this rule makes your job a lot harder. I've seen articles on church directing that encourage you to have a bail out shot, a camera that you can always go to in between shots or when nothing is happening on stage. I've just told you not to use it. Now, don't be mad, be creative. What that looks like in your church may vary from what works in other churches.
A big note here—if you're directing both for IMAG screens and online streaming or to an overflow room, then I would recommend having two different feeds if at all possible. At the least, have a router that feeds the screens on stage and punch in the CU camera when you want to show the whole stage. The feed going outside of the main room should be handled much differently, including wide shots and even audience shots when appropriate. Maybe I'll do a second blog on directing for live streaming in the near future.
Years and years ago, (in writing this I realized it was over 30 years ago, yikes!) I was working IMAG on a country music tour with The Judds, Reba McEntire, Merle Haggard, and George Strait among other artists. At the end of most songs the stage would be blacked out, or the artist would be turning upstage or grabbing a drink or switching guitars. So in order to get around that, we'd grab still images of moments during the last song, and put them up as a montage during the applause until the lights were back up and the performer was ready to go for the next song. It worked really well in that situation and we stayed away from wide shots or dark screens.
#3 Don't Be Afraid of a Blank Screen – Piggy backing off of Don't #2, a blank screen is not something you should fear, it's not like people are sitting in their living rooms and if you don't put a camera up, they're lost. They're sitting right there and have a free view of the stage. They know what's going on. When we're sitting in a control room somewhere outside the auditorium it's easy to think we're directing a TV show. BUT WE'RE NOT. We're directing for Image Magnification.
Once again, if you're also live streaming or have an overflow room going, this rule should only apply for the screens in the main room.
#4 Don't Over Direct! – Avoid the temptation of cutting to a different shot because you're bored, or you think it's just time to switch to a different angle. Every shot should have a purpose. Think, "What would I want to see if I was in the audience?"