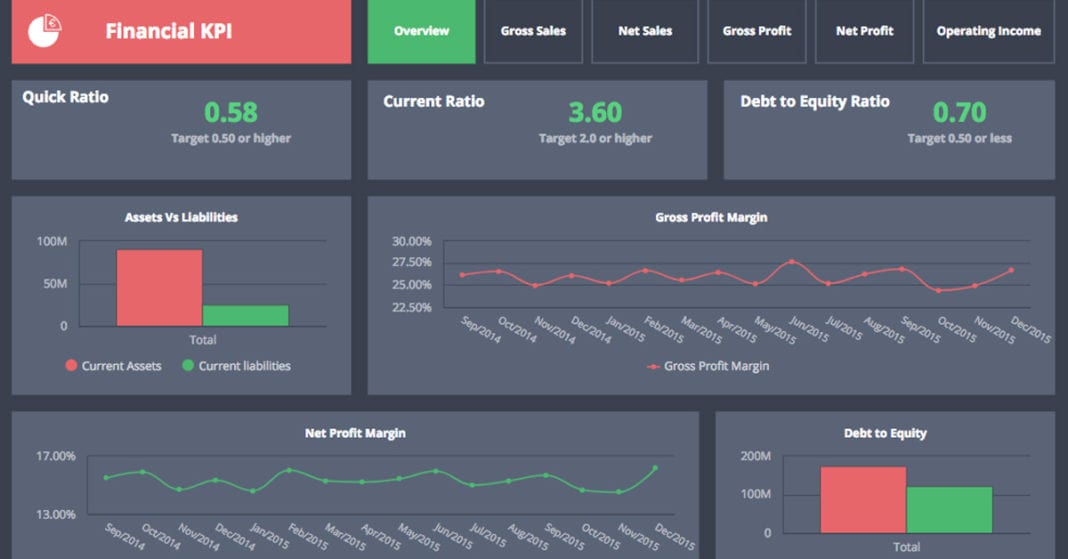 You know the old saying: "If you can't measure it, you can't manage it."
Regardless of whether that old saw is true or not, being able to measure how well your small or midsize business strategies and tactics are working helps inform what to abandon and what to double down on.
The technology is available to easily create the sales reports, dashboards, scorecards, and charts needed to make reporting easier and more accurate than using a spreadsheet or (gasp) pencil and paper.
Who are you anyway? Bob Cratchit?
Though reporting software can be expensive, luckily there are open source and free reporting software options out there that even Ebenezer Scrooge wouldn't hesitate to sign off on.
Free and open source reporting software
Just to be clear: Open source software requires some level of technical know-how to operate, so make sure you have someone on your team with the time and ability to implement your new tool.
If you have a very small team, or your IT department lacks the bandwidth to take on such a project, you're better off going with a paid option (don't worry, there are plenty).
Still on board the open source train? Great! Here are six options, listed in alphabetical order.
When comparing these options, it's useful to not only think of the functions they provide, but the way in which developers will be interacting with the software and data. BIRT, Pentaho, and Jaspersoft all have Java and JavaScript capabilities. Pentaho twists that bit, adding in BSF and BSH support, while Jaspersoft supports Groovy scripting.
Designing a report in BIRT
Average user rating: N/A (BIRT hasn't been reviewed on Capterra)
BIRT is the gold standard when it comes to open source business intelligence packages. Sponsored by Actuate, BIRT has been kicking around since 2004.
Over the years, it's gained support from IBM — which has integrated BIRT with one of its major reporting tools — and Innovent Solutions, among other big players in the industry. The project claims it's had "over 12 million downloads and over 2.5M developers across 157 countries," making it a huge operation by any standard.
BIRT uses flexible Java to dig for data and generate reports for large organizations. Its tools can dive into all sorts of different databases — XML, SQL, JDO datastores, etc.
BIRT also has a huge array of customization controls, and extensibility options makes BIRT the duct tape of open source business intelligence software.
In addition to all its beauty and power, BIRT is also updated all the time. It probably updated while you were reading this post. OK, maybe not, but the software gets minor updates about three times a year, with a major update released annually.
A large developer community and wide adoption also provide you with plenty of resources for support when the need arises.
Recommended for:  Larger organizations with a robust IT department that has the time and resources to maintain a powerful but open source reporting tool.
Have you tried BIRT? Leave a review!
The main interface in ClicData Personal
Average user rating: 4.5/5 stars
ClicData is your ticket to simple, cloud-based insights. The software offers plenty of in-depth analytic tools but manages to keep its interface clean and straightforward. The free, "personal" edition is good for one user, but ClicData also claims enterprise-level users from McDonald's to the City of Austin.
At the free level, you'll be able to upload a full gig of data into the system, giving you plenty of room to groove. That data can take the form of Excel files or some non-Excel worksheet formats. You won't have access to Google Sheets or any of the interesting social options that ClicData offers, but it's a good start.
Reviewers often call out the company's tech support as a benefit, which is a nice one to see in a field such as BI.
Recommended for:  Organizations of all sizes that are looking for a clean, straightforward system that starts simple and scales up to powerful, with the flexibility to upgrade as needed.
Have you tried ClicData? Leave a review!
Getting started in Jaspersoft Community
Average user rating: 4/5 stars
Jaspersoft is a collection of reporting and analysis tools that's been in production since 2001. In 2014, the brand was picked up by TIBCO for $185 million.
Jaspersoft offers more advanced analytics options than some of the other free options on this list. The free Jaspersoft community edition is a slimmed-down version of the enterprise edition, but it still provides plenty of functionality for data analysis and reporting.
Reviewers have said that Jaspersoft has a better report designing interface than Pentaho (listed below) but that Pentaho offers more power in its reporting. Figuring out which reporting software package is right for your business will come down to your understanding of the business need.
Recommended for:  Small to midsize organizations that need an established, reliable tool that offers flexibility in designing reports without having to go into great depth right off the bat.
Have you tried Jaspersoft? Leave a review!
Pentaho Community Edition
Average user rating: 4/5 stars
Pentaho, which is part of Hitachi Vantara, has both a subscription-based enterprise edition and a free and open source community edition. The community edition has some functional limitations when compared to the enterprise edition, but it's still very compelling.
With a wealth of analytics tools — data mining tools, an OLAP server, and multidimensional data query systems, to name a few — Pentaho gives you plenty of power to uncover the hidden patterns in your data.
The reporting software side gives users a report design tool, running on the back of a handful of open source solutions all integrated into the community edition.
Like BIRT, Pentaho has an excellent community of developers working with it. That means plenty of open source goodness: plugins, extensions, data integrations, etc. You can also get solid community support for development needs such as designing and displaying reports.
The potential to upgrade to the enterprise edition also means that — if implementing and customizing the open source system overwhelms you or your small IT team — you can pay Pentaho to get the system up and running and support your team.
Pentaho doesn't publish its enterprise prices, but you can get a free quote.
Recommended for:  Organizations of all sizes that need advanced reporting options and the flexibility to upgrade to paid support and additional features.
Have you tried Pentaho? Leave a review!
A chart in SpagoBI
Average user rating: N/A (SpagoBI hasn't been reviewed on Capterra)
SpagoBI is a full-on open source business intelligence and reporting software option. There's no paid version, it's just one big freebie. The project kicked off in 2005 and has been growing ever since.
SpagoBI's reporting is actually driven in part by Jaspersoft's iReport tool. That means that you get some of the benefits of working with Jaspersoft — and other integrated tools — in SpagoBI's environment.
On the other hand, it's one more piece that needs to play nice with a bunch of other moving pieces, and reviewers have had trouble making everything run smoothly in the past.
Once you're up and running, though, there's no doubt that you can do powerful things. SpagoBI allows you to dig into and analyze data using OLAP analysis, user-defined KPIs, and real-time dashboards. The analysis power is impressive.
If you need some handholding, SpagoBI users can pay for support. Getting up and running can be smoothed out by simply forking over some cash and letting SpagoBI do its thing for you.
Recommended for:  Individuals or small teams that need a completely free but powerful analytics tool and have the time and expertise to untie a few knots while implementing it.
The value of reporting software
Picking the right reporting software for your business is a big step. It can unlock hidden value, help you make better decisions, and help you measure the impact of decisions you made in the past.
These five free reporting software options should give any sized business a good place to start the reporting and analysis journey.
If you need more options, check out Capterra's full listing of reporting software solutions.
The original article appeared here.