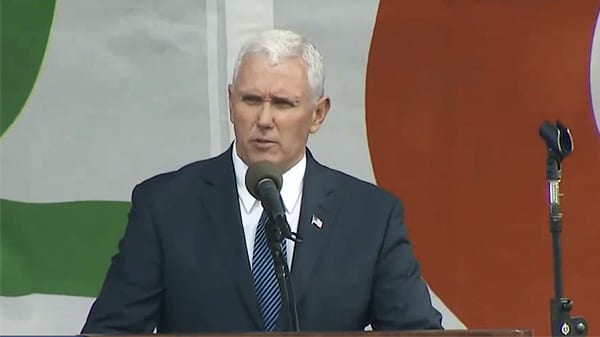 The 44th annual March for Life is going on in Washington D.C. today, January 27, 2017. Thousands are gathered to express their concern and opposition to the passing of Roe v. Wade 45 years ago. Today, Mike Pence became the first Vice President in office to attend the March for Life.
According to Pence, President Trump asked him to attend the event and to thank everyone there for their support of his election. Pence said "we're in the promise-keeping business," then went on to cite some of the things the Trump administration has already done in its week in power to push the pro-life movement forward. Pence cited Trump's reinstatement of the Mexico City Policy, which prohibits federal foreign aid money from going to organizations that perform abortions. He also mentioned the strides the administration is taking to prohibit taxpayer money from funding abortions domestically.
To complete his case for the pro-life stance of the Trump administration, Pence said next week the President will announce a Supreme Court justice nominee who "will uphold the God-given liberties enshrined in our Constitution in the tradition of the late and great Justice Antonin Scalia."
In addition to Pence, Kellyanne Conway, the mastermind behind Trump's campaign, addressed the crowd. She introduced herself as "a wife, mother, a Catholic, counselor to the President of the United States of America, and yes, I am pro-life." She assured the crowd that as the President and the Vice President sit at their desks making decisions for the nation, they will "further this cause." Conway said the Trump administration shows "incredible promise for the pro-life movement."
Toward the end of his brief speech, Pence said a "society can be judged by how we care for our most vulnerable." He expressed his hope in the nation because "compassion is overcoming convenience and hope is overcoming despair." The general theme of his speech is that things are looking up for the pro-life movement. With a President in office who is willing to make these policy changes, "life is winning again" in America, according to Pence.
Pence concluded his speech by giving another promise: "We will not rest until we restore a culture of life in America for ourselves and our posterity."