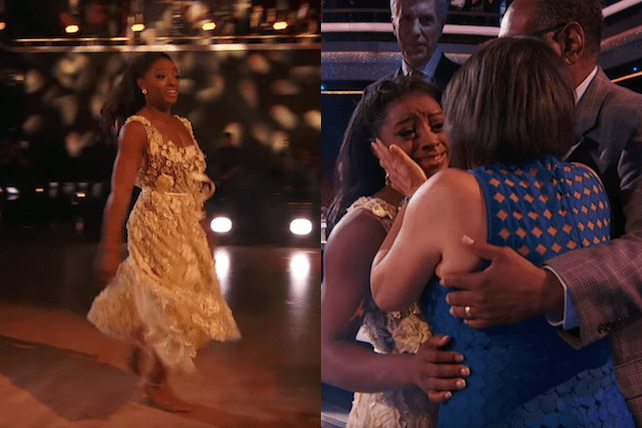 Simone Biles is best known for her incredible performance at the 2016 Rio Olympics. A rookie Olympian with a small frame and a big heart, she won the respect of her teammates, the praise of the gymnastics community, and five medals to boot.
If you followed the Olympics at all in 2016, you know Team USA was composed of more than a few Christians. Their performances and sportsmanship turned many a head—and even now, one Olympian in particular did it again by bringing Father God into the spotlight on the television show "Dancing With the Stars."
Recently, Simone Biles channeled her gymnastics prowess into dancing. On Monday April 10, 2017, Biles pulled the competition into the spiritual realm, moving the audience to tears with her deeply personal rendition of a dance set to "Good, Good Father" by Chris Tomlin.
Before we see the beautiful dance Biles performs with her partner, Sasha Farber, we are given a rare glimpse into Biles' childhood. Succumbing to tears, Biles shares with Farber how she was placed in foster care at the age of three when her mother was unable to take care of her. She says she remembers "always being hungry and afraid."
When Biles' grandfather, Ron Biles, heard about his grandchildren being in foster care, he sent for them. Matching his granddaughter's emotion in his own interview, Ron Biles half-jokes as he recalls telling Simone, "You're not going to steal my heart," but then soberly recalling that "she did" anyway. In 2000, when Biles was six years old, her grandparents adopted her. She started calling them mom and dad from that point on.
It's apparent the parent-child bond is strong between the Biles. At the end of her beautiful dance, Biles breaks away from Farber to run into the embrace of her loving parents.
Biles certainly understands the depth of a child's need to belong to a family and be provided for, to have a "good, good Father," so to speak. She has experienced want, but now she is experiencing provision.
As she moves through the dance, her whole body speaks to the understanding of having a father who loves her and takes care of her, both here on earth and also in heaven.