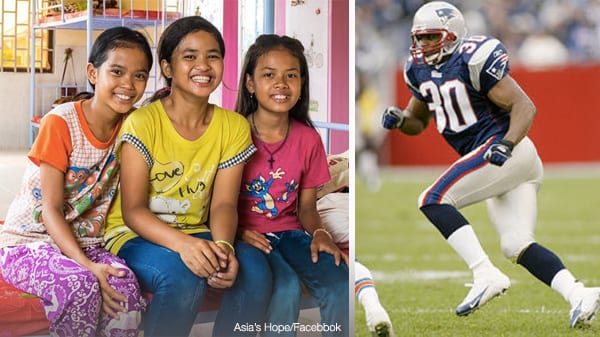 The widow in Matthew chapter 12 gave everything she had to live on to further what she believed to be God's mission. It was a similar act, enacted by a teen, and the prompting of the Holy Spirit that inspired former NFL player Jerod Cherry to give up a very treasured possession to provide for what he believes to be a work of God.
In 2008, Cherry auctioned off one of his Super Bowl rings—arguably the most valuable—and gave the money to charity. A series of God-ordained events, though, led him to this decision. You could say the story started when Cherry faced hardships growing up as a poor kid in California. Cherry told ESPN about his family going without a phone for three years so Cherry could have the money needed to compete in a track meet in Texas. Cherry was offered a scholarship to Cal-Berkley, where he made the most of his time there. Not only did he leave with a master's in education, but he was picked up by the NFL for his football skills.
Cherry was in the NFL for nine years, playing for the New Orleans Saints and then for the New England Patriots, with whom he won three championship rings. After the NFL, Cherry moved on to other work and eventually found himself at the Momentum Youth Conference in Ohio, volunteering with his wife in 2008. When he witnessed an impoverished teen give his last 50 cents to charity, Cherry felt something stirring in his heart. Then, a staffer jokingly suggested he give one of his rings to support the cause they were raising money for. Cherry tried to shake off the two incidents that day but says he went home and experienced a valley-of-decision-like night of sleeplessness.
Cherry decided he was going to give a ring away. But he had three to choose from, and one was by far more valuable to him than the others. The thought of Cain and Abel offering sacrifices to God came to mind as he was making his decision. He was motivated to give the most valuable one because of the example of Abel. "I easily could've given the second or third one, and nobody would've said anything. But my thought was, 'If I'm going to give anything that's sacrificial and supposed to represent my faith in God, I'd better give my best and what I care about the most,'" Cherry said.
Later, he learned that part of his donation went to fund the building of a new orphanage in Doi Saket in northern Thailand. The organization that benefited from the donation is called Asia's Hope, and they work with kids from the hill tribes of Thailand and Burma who are vulnerable to the drug and sex trafficking trades prevalent there. Without a place to live and access to education, these children would likely be forced into the drug trade or prostitution because of their poverty.
Tutu Bee is the director of Asia's Hope and lives with the children in the home built by the funds donated by Cherry. Over the phone, Bee had a request for ESPN: "Please tell Mr. Cherry that his donation is very meaningful to all 24 kids, and that their lives will never be the same because of him. He's given them new life."
Cherry said seeing the images of the children in Thailand, who were directly affected by his gift, left him wanting to offer more assistance. Even though it doesn't matter to the children in Thailand which ring he gave, he wanted to give God the best, and that is exactly what Abel wanted to do as well.