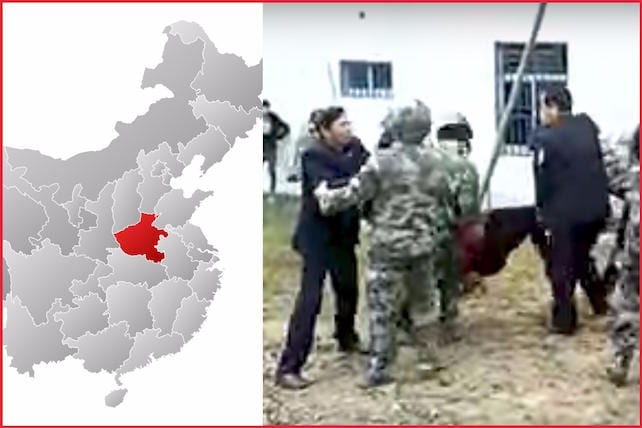 Members of a Christian church in Henan Province, China, are left traumatized after their new building was razed and several of their members were beaten and imprisoned by Chinese officials.
One witness likened the violence displayed by Chinese officials to the notoriously brutal Japanese invaders during WWII, giving us reason to believe this most recent takeover of a Christian church in China is more severe than the typical oppression Christians experience in that country.
The nonprofit organization China Aid reports 300 police offers and local government officials showed up to the church (which was still under construction) on May 5, 2017, and proceeded to demolish it. Shuangmiao Christian Church is located in the city of Shangqiu, Henan Province, in central China.
Witnesses reporting to China Aid describe officials pushing church members to the ground, twisting their hands and dragging them before placing them under arrest. Some 40 members were arrested, including the church pastor, Zhang Di, and the church's vice director, Lü Yuexia. As of last week, eight of those arrested are still in custody.
Not only were members beaten, the officials also confiscated their personal items, including cell phones, laptops, jewelry, money and bank cards. Construction workers' property was also searched and some of it confiscated. When members tried taking pictures of the raid, not only their cell phones were taken, but also their ID cards.
Pastor Li Peng was beaten during the incident when he tried documenting what was happening.
The violence was spurred by the government's decision that the new church building was "illegal" and that its demolition was punishment for the church's refusal to pay an annual "road usage fee" (about $588). The fee is an arbitrary one imposed by villagers who are envious of the church's wealth, according to China Aid.
This is certainly not the first incident of persecution Christians in China have had to endure, and will likely not be the last. Because of the tendency of the Chinese government to try to brush these altercations under the rug, we may not hear of many of the abuses going on to our brothers and sisters there. Please continue to pray for believers in China and that their plight does not go unnoticed.