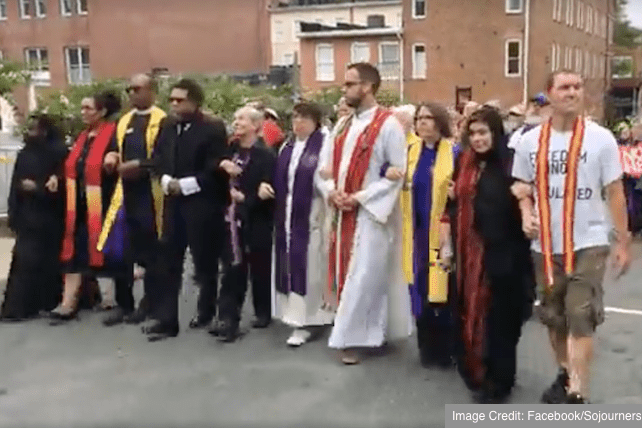 Around noon today, August 12, 2017, the Governor of Virginia, Terry McAuliffe, declared a state of emergency in Virginia due to a white supremacist demonstration turned violent in Charlottesville, Virginia. In a show of counter-protest, a group of clergy from different faith backgrounds also took to the streets to walk through the city, arms linked, while silently offering prayers.
"We're going to fulfill the promises of Donald Trump" to "take our country back," David Duke, a former imperial wizard for the Ku Klux Klan, told reporters.
"Unite the Right" drew protestors to Charlottesville, Virginia, early Saturday morning. The group of white supremacists, neo-Nazis and Ku Klux Klan members was protesting the removal of a statue of Confederate General Robert E. Lee from a public park. Counter-protestors also showed up to voice their disapproval of the white supremacist groups.
According to the New York Times, "Hundreds of counter-protesters—religious leaders, Black Lives Matter activists and anti-fascist groups known as 'antifa'—quickly surrounded the crowd, singing spirituals, chanting and carrying their own signs."
The rally turned violent after the crowd left the public park and a car mowed into a group of counter-protestors walking toward the city's downtown mall. One person was killed and several more injured.
The protest kicked off Friday night as the white supremacist group marched through the University of Virginia campus with torches. In another part of town, clergy were preparing their own counter-protest, starting off with an interfaith prayer gathering.
Sojourners Magazine has been streaming live from the city, giving updates and posting them to their Facebook page. In the video below, you can see the clergy marching.
President Trump has condemned the violence in Charlottesville, citing "hatred, bigotry and violence on many sides" as being culpable.