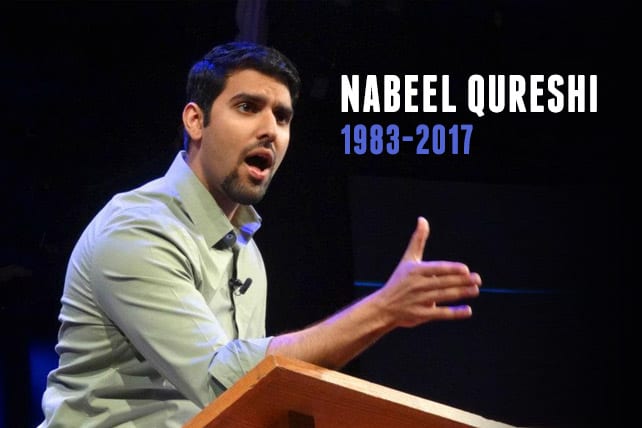 Nabeel Qureshi, Christian apologist and author of Seeking Allah, Finding Jesus, passed away Saturday, September 16, 2017. After a year-long battle with stomach cancer, Qureshi is now home with Jesus.
Qureshi, a Pakistani-American, was raised by devout Muslim parents. His conversion to Christianity was documented in his best-selling Seeking Allah, Finding Jesus. Qureshi was also served as a speaker with Ravi Zacharias International Ministries (RZIM) and was mentored by Zacharias himself. In a tribute published on Christianity Today (CT), Zacharias said, "I have seldom seen a man with such deep conviction and proportionate passion and gifting. When he spoke, he held audiences spellbound."
Conversion to Christianity
In an article on CT, Qureshi briefly shared his experience of conversion to Christianity. A fellow student at Old Dominion University in Virginia, where Qureshi earned his first of many degrees, befriended the young Muslim. It was David Wood's investment of time and friendship that caused Qureshi to seriously consider Christianity and start to question the faith he had defended and practiced along with his tight-knit family. He began investigating the origins of Islam as critically as he had Christianity.
After graduating from Old Dominion, Qureshi's desperate plea was for God to reveal himself to him. While he was attending medical school, Qureshi experienced a vision and three dreams, all pointing him toward Jesus. While he found comfort and truth in Jesus, his conversion caused Qureshi pain as it felt like a betrayal against his family. It was this understanding of the complexity of conversion for some people that eventually formed him into a zealous evangelist who spoke with compassion and understanding toward those who believed differently than he did.
His Ministry
Ravi Zacharias, Qureshi's mentor, encouraged him to pursue apologetics and "to do it with gentleness, respect and learning" when he joined RZIM. This instruction guided Qureshi's approach to apologetics and the words he spoke and wrote.
The concern for respect and gentleness was on Qureshi's mind as he recorded the final video to the vlog he kept documenting his journey with cancer. "When we talk to people about our beliefs, that should be undergirded by love and peace… The whole point should be to bring people together through the truth."
Qureshi explained his concern that some people have used the information he's shared about Islam and Christianity to "undercut one another." Clearly distressed by this use of his work, Qureshi explained this was never his intention and he didn't want this undercutting to be linked to his legacy.
In May, 2017, Qureshi asked Zacharias if he could join him for one last ministry trip, saying he missed being on the road with his mentor. Zacharias recalls the zeal Qureshi had for connecting with people one-on-one and leading them to Jesus.
"Nabeel came like a streak of lightning, brightened the night sky, and has returned to the One who gave the power to do what he did," Zacharias says.
The world will not likely soon forget this hero of the faith. Love and peace will be integral to his legacy. Qureshi leaves behind his wife, Michelle, and his daughter Ayah.