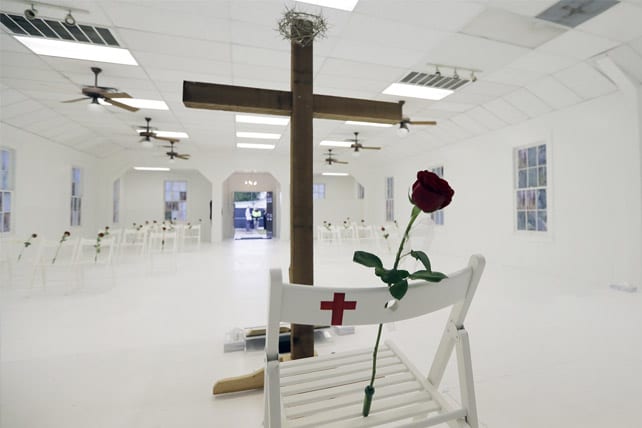 One week after it became the site of the deadliest mass shooting in church history, the First Baptist Church in Sutherland Springs, Texas, reopened to the public.
But its appearance was decidedly different than when a lone gunman entered the house of worship and sprayed the congregants with more than 450 bullets, killing 26.
Gone were the pews, replaced by 26 white chairs marking the locations where worshippers died. Each chair had a name inscribed on the backrest; and on the seat, a red rose.
Blood was scrubbed from the floor, walls, and ceiling and the surfaces whitewashed; a fitting metaphor for Christ's sacrificial death on a cross and its effect on the heart of each believer.
An audio recording of Scripture readings by church staff played on a loudspeaker.
Melissa Jeltsen, writing for the Huffington Post described it perfectly, "The scene of an unspeakable crime had been transformed into a moving tribute to those who lost their lives."  Ultimately the church will be razed in favor of a new building.
Sadly, the question of what to do with a church building that has witnessed tragedy is one that too many congregations have had to ask.
DEFIANCE IN THE MIDST OF FEAR
Dallas Drake, a criminologist at the Center for Homicide Research in Minneapolis counts 147 church shootings from 2006-2016.
At Burnette Chapel Church of Christ in Antioch, Tennessee, members came together for their regularly scheduled service just three days after a gunman killed a woman and injured seven others in late September.
Church leaders said they had to meet, to do otherwise would have felt like giving up.
Still, some changes are inevitable for the safety of the faithful. Joey Spann, the minister of Burnette Chapel Church of Christ, told The Tennessean after the attack, "Churches, you don't lock the doors. But we may have to. It's sad."
The aftermath of the shooting at Emanuel AME Church in Charleston, S.C. wasn't as much a change to a building, or a sense of safety among congregants but a desire to seek justice in the face of unabashed evil.
Nine people died in that onslaught. But in God's hands intended evil becomes eventual good. The surviving victims offered forgiveness to the shooter in a demonstration of God's grace. Politicians, journalists and a steady stream of tourists visited the church to begin a conversation on justice and to marvel at the forgiveness of those who lost loved ones.  Could these be lessons that can help a deeply divided nation?
Perhaps Emanuel's first female pastor, the Rev. Dr. Betty Deas Clark, has the best response to the question, "What do you do with a church building that has witnessed tragedy?"
In a YouTube video she said, "Last summer, our church suffered a great tragedy. But we never gave up our faith. We never gave up on God because God never gives up on us. Through it all, our church stands strong."