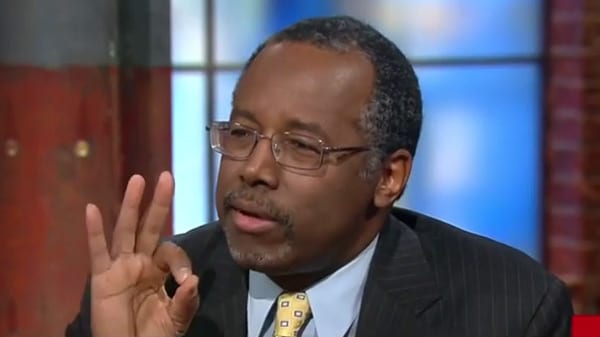 President Donald Trump began his weekly cabinet meeting Wednesday saying it was a "celebration." The president asked Ben Carson to open the meeting in prayer.
Hours earlier, the Senate approved a sweeping tax overhaul bill that House lawmakers passed a second time later in the day.
To begin the celebration Trump asked Housing and Urban Development Secretary Ben Carson to begin the cabinet meeting with prayer.
"Our kind father in heaven, we're so thankful for the opportunity and the freedom that you've granted us in this country. We thank you for the president and cabinet members who are courageous, who are willing to face the winds of controversy in order to provide a better future for those who come behind us. We're thankful for the unity in congress that has presented an opportunity for our economy to expand so we can fight the corrosive debt that has been destroying our future. And we hope that unity will spread even beyond party lines so that people recognize that we have a nation that is worth saving. And recognize that nations divided against themselves cannot stand. In this time of discord, distrust and dishonesty, we ask that you would give us a spirit of gratitude, compassion and common sense. And give us the wisdom to be able to guide this great nation in the future. We ask in the name of the Father, the Son and the Holy Spirit. Amen."
Before asking Carson to pray, Trump invited the reporters in the room to stay for the invocation joking, "You need it more than I do," adding, "Then maybe you'll be honest," continuing his war with reporters whose stories have been 91 percent negative of his administration.
James A. Smith, the Vice President of Communications for the National Religious Broadcasters Association, took issue with the off-handed remark on Twitter:
Mr. @POTUS, we all need prayer. Yes, the press needs it. And so do you. And so do I. https://t.co/bcR0BoVwCh

— James A. Smith Sr. (@JamesASmithSr) December 20, 2017
That is one truth on which all sides should agree; we all need prayer.