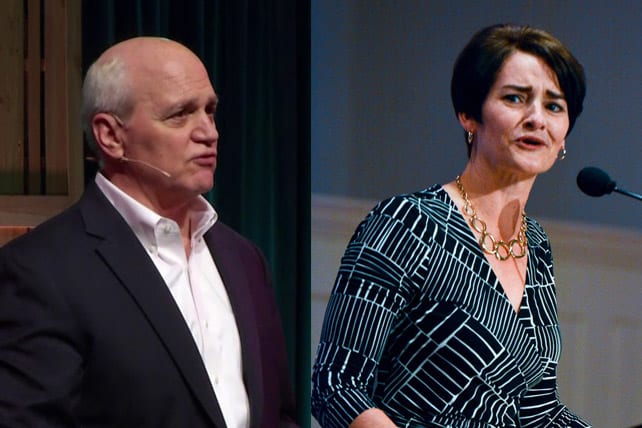 Moody Bible Institute: Update January 11th, 2018
Moody Bible Institute President and Chief Operating Officer have resigned and the school's Provost has retired following publicized complaints about the school's direction. At a meeting on Wednesday the Board unanimously decided "it is time for a new season of leadership." Resigning are President Paul Nyquist and COO Steve Mogck. Provost Junias Venugopal has retired.
Randy Fairfax, chair of the board of trustees said, "They are godly, honorable men to whom we entrust to the Lord and offer our deep gratitude for their years of faithful service to Christ and to Moody. However, we are unanimous in our decision that it is time for a new season of leadership. I ask that you be in prayer for them and their families."
---
Moody Bible Institute is in the midst of what some are calling a crisis and it doesn't appear to be going away anytime soon.
The problems at the 132-year-old school are wide-ranging and include falling student enrollment numbers, a climate of fear and intimidation on campus, where whistleblowers were said to have been silenced, a liberal theological drift, unprofessionalism by professors in the classroom, widespread layoffs, questionable loans to school trustees and officials and now the firing of a popular Moody Radio Network host who criticized the school.
SWEETHEART DEALS FOR TRUSTEES AND EXECUTIVES
Julie Roys, host of Moody Radio's "Up for Debate" program, was told via email on Saturday that she had been terminated. No reason for the firing was given but just two days earlier Roys outlined the "disturbing truth" about leadership at MBI on her blog. Her article was titled "A Luxury Suite, Questionable Loan to Officer, & Gambling: The Disturbing Truth About Leadership at MBI." The article resulted from her own investigation of complaints about MBI that she said school officials refused to address.  
In that article she wrote:
In 2009, the Christian school allegedly gave Moody Bible Institute President Paul Nyquist a $500,000 loan—which Moody Bible Institute's latest 990 forms say has never been repaid—in order to acquire a $1.08 million condominium near campus. This money was given during a period of financial hardship for the school, a period of time that has stretched into recent months as approximately one-third of the Chicago faculty were let go last November, and the school's Spokane, Washington, campus and learning extension site in Pasadena, California, were both closed.
When asked generally about the practice of loaning to officers (not MBI in particular), Attorney Rich Baker, a partner with Mauck and Baker, a Chicago law firm known nationally for representing religious institutions, said: "I'm always against loans to corporate officers and directors… If it's not paid back, then that certainly puts it into the category of self-dealing. I'd be very uncomfortable in an audit in a situation like that."
The condo in question is said to be worth more than two times as much as the median sale price of homes in the same neighborhood as MBI, Roys reported. Meanwhile, Nyquist's compensation package has risen from $233,252 in 2009 to $338,735 in 2016, records say.
Roys said that from 2000 to 2008, MBI also provided a kind of "second home" in a luxury apartment atop Jenkins Hall for former Moody board chairman (now a trustee) Jerry B. Jenkins, co-author of the Left Behind fiction series. Jenkins had given the school an undisclosed sum of money in 1999 that enabled them to purchase the building bearing his name.
According to Roys, "Had MBI allowed other people to use the suite, and had Jenkins used the apartment only when he was in town on trustee business, it would not be considered self-dealing."
Roys wrote that many MBI staff members were uncomfortable with the arrangement and in 2008 someone submitted an anonymous "whistleblower report" internally at MBI. Jenkins was upset about the report and made efforts to find out who complained.
ACCUSATIONS OF A DRIFT TOWARD LIBERAL THEOLOGY
The accusations of liberal theological drift and unprofessionalism from professors come from Roys and a detailed letter from an alumna. 
The drift has become so controversial that a website was created by concerned students called The Broken Twig. The website says it is "documenting the decline and fall of the Moody Bible Institute."
On December 15, 2017, the website reprinted a letter from an MBI alumna documenting the unidentified writer's "deep concern with the atmosphere, education and direction of Moody Bible Institute."  
"Moody Bible Institute is not the training ground it once was. Moody has become not a unique place to study and know God's Word, but instead a place infiltrated by liberal political stances and clichéd cultural buzzwords without a solid theological foundation, a departure from Moody's central and driving mission to train men and women for faithful service by knowing and teaching the Word of God."
The letter describes urban ministry classes that frequently started late and ended early and were taught by an unprepared professor who promoted social justice, liberation theology and exercises meant to instill fear of "white privilege" ahead of ministry and the gospel.
The gambling reference also involves Jenkins. According to Roys, MBI dropped a prohibition on gambling from its employee standards after it was reported that Jenkins had admitted to gambling both in his home and at casino poker tournaments.