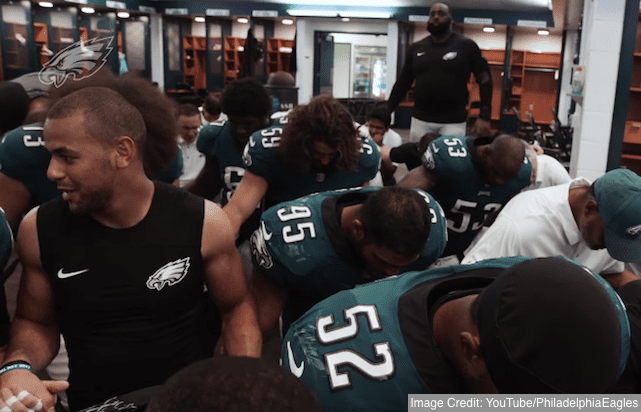 You knew there was something different about this year's Philadelphia Eagles when several of the team's players released a Bible study on humility and surrender through the YouVersion Bible app at the beginning of the season.
Those players were Nick Foles, Zach Ertz, Trey Burton, Carson Wentz and Chris Maragos.
Two of those men, Wentz and Maragos, won't be playing in Super Bowl LII because of season ending injuries.
Talk about an answer to prayer.
The way those two stars have handled the adversity might turn out to be a greater achievement than winning a Super Bowl.
Burton doesn't see the injuries to his friends as coincidence. He told the Philadelphia Inquirer after Wentz went down with a serious knee injury, that he believes they are being tested.

"The biggest thing I can do for them is pray for them, cover them immensely so that they don't start letting things creep in their mind like, 'Oh, I'm always hurt. Oh, I'm not a good player. Or, 'Oh, the team doesn't like me,'" Burton said. "Stuff like that can easily seep into people's minds."

Wentz was hurt in December on a two-yard touchdown run in a game against the Los Angeles Rams. After Wentz got the initial diagnosis and headed indoors, Burton asked Ertz, who wasn't playing because of a concussion, to follow him into the locker room.
"I figured I was of more use comforting him than try and comfort the guys on the field," Ertz said. "Obviously, it's an emotional time for a lot guys. You see a lot of tears. I don't want to go into the details on if he was, but I knew something wasn't right with his knee. He knew something wasn't right with his knee."
Ertz said he called their pastor, Kyle Horner of the Connect Church in Cherry Hill, New Jersey, and the three of them prayed together.
Carson Wentz: God Is Trying to 'Teach Me Something'
After the injury Wentz recorded a YouTube video:
"Obviously, it's been a rough day for me personally, I am not going to lie. I have a ton of faith in the Lord and in his plan. But at the end of the day, it's still been a tough one. And it will be tough on me for a little bit," Wentz said.

"As I reflect tonight, I just know the Lord's working through it, and I know Jesus has a plan through it. I know he's trying to grow me in something, teach me something, use me somehow, some way, this will just be a great testimony as I go forward."
The story is indicative of the entire season with this team.  
Back in October, a picture went viral on the Internet of Eagles wide receiver Marcus Johnson being baptized in a hotel swimming pool in North Carolina before a game with the Carolina Panthers.
Surrounding the pool and holding hands during the baptism were Wentz, Foles, Ertz, Burton, offensive guard Stefen Wisniewski, linebacker Jordan Hicks and several others.  
The band of spiritual brothers was growing.
Foles has his own story of faith. The Eagles are his third team since entering the league in 2012. In 2015, he lost his starting job with the St. Louis Rams and was ready to quit.
Instead he prayed. In a news conference following their victory in the NFC Championship game against the Vikings, Foles revealed that prayer led him to reunite with Kansas City Chiefs coach Andy Reid, who had drafted Foles in 2012 when he coached the Eagles.
"I talked a lot to my wife and I remember just saying a prayer," Foles said. "I literally said a prayer and then…my heart said go back. At that moment, it was going to back to play for coach Reid, and when I did, you know, I am a better person because of that decision.
"It wasn't an easy decision. It's not like it was 100 percent, but my faith and my guidance and the way I felt like going into that experience allowed me to grow to make me a better player now, because you experience those emotions, you go through that. It's an emotional thing, it's something I've done my entire life. And to go through that and make that decision, it wasn't easy."
The Chiefs signed Foles before the 2016 season and he appeared in three games, making one start. Foles completed 36-of-55 passes for 410 yards, three touchdowns and no interceptions.