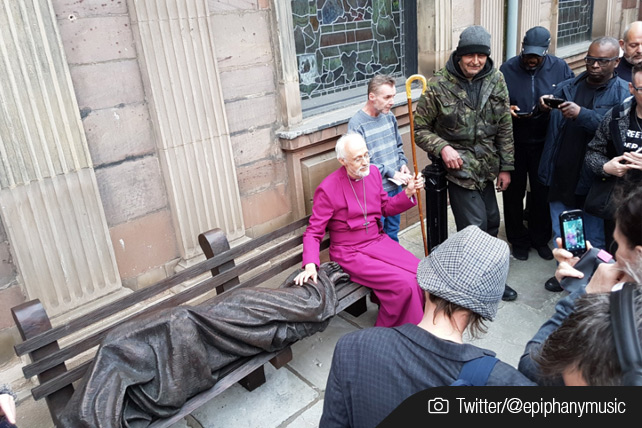 The latest setting for the artwork known as "Jesus the Homeless" is outside St Ann's Church in the Manchester, England.
The near life-size bronze sculpture depicts Jesus as a homeless person sleeping on a bench. His face and hands are obscured, hidden under a blanket, but crucifixion wounds on his feet reveal his identity. The statue has been described as a "visual translation" of the Gospel of Matthew passage in which Jesus tells his disciples, "As you did it to one of the least of my brothers, you did it to me"
The work is from the Canadian artist Timothy Schmalz. He said "Jesus the Homeless" does what artwork should do, get out a message that Jesus is with the marginalized. He hopes people who see it will realize that it is a sacred duty to care for the least of our brothers and sisters.
Greater Manchester is in the middle of a £1.8 million project to address homelessness between now and 2020.
Churches have also responded to the growing homelessness crisis, providing winter night shelters and other services.
The Bishop of Manchester, The Rt. Rev. Dr. David Walker, who chairs the Manchester Homelessness Partnership, said, "Jesus is very explicit in the Bible; when we offer or refuse care to those in need, we will be judged as though he himself were the needy person before us. This sculpture casts Christ's words into metal. It links them directly to one of the most visible expressions of human need. Its identical twins can be found in other great cities around the world; a reminder that Manchester today is a truly global city."
The original sculpture was installed at Regis College, University of Toronto, Toronto, in early 2013. It has since been placed in several locations around the world.
The first sculpture outside of North America was installed on the grounds of Christ Church Cathedral, Dublin. The most prominent location being in Rome outside of the Papal Office of Charities.