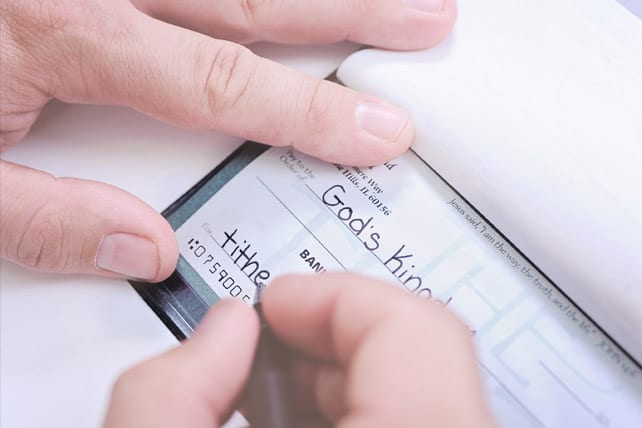 Most churchgoers say the Bible commands them to tithe. But not everyone agrees on how to define tithing.
How Do You Define Tithing?
"Tithe" is defined in the Bible as one-tenth of a person's produce or earnings. But a new study from LifeWay Research shows there is a difference of opinion to the question, "Ten percent of what?"  
Among pastors who believe tithing is a biblical command, 56 percent say it's a tenth of a person's gross income, 17 percent say it's a tenth of a person's net income, 11 percent say it's "whatever a person sets aside to give," and 7 percent say it's "whatever amount a person actually gives."
The study did not ask churchgoers their definition of tithe. But it did register their views on whether they should give.
Most churchgoers believe they are commanded to give. And many believe in the idea of tithing.
Eighty-three percent agree when asked, "Is tithing a biblical command that still applies today?" Eight percent say it is not. 10 percent aren't sure.
Those who have evangelical beliefs (86 percent) say it is a biblical command for today. So do 79 percent of other churchgoers. Many Baptists (87 percent), Pentecostals, (86 percent), nondenominational churchgoers (81 percent) and Lutherans (68 percent) agree as well.
"Both pastors and churchgoers see giving as a vital part of their faith," said Scott McConnell, executive director of LifeWay Research. "They don't always agree on how much a churchgoer should give. But most seem to see 10 percent as an ideal to strive for."
Meanwhile, other research suggests many Christians are not living their beliefs. A 2015 State of the Plate study estimated that only 7.4 percent of professed churchgoers are tithing.  
Majority of Churchgoers Split Their Tithes
While a large majority of churchgoers say the Bible commands them to give, their money doesn't always go in the offering plate.
Half of Protestant churchgoers say their tithes can go to a Christian ministry rather than a church. A third say tithes can go to help an individual in need.
And more than a few (18 percent) say tithes can even go to a secular charity.
McConnell concluded from the data, "For many churchgoers, tithing is just another term for generosity."
For the study, LifeWay Research surveyed 1,010 Americans who attend services at a Protestant or nondenominational church at least once a month—as well as 1,000 Protestant senior pastors.