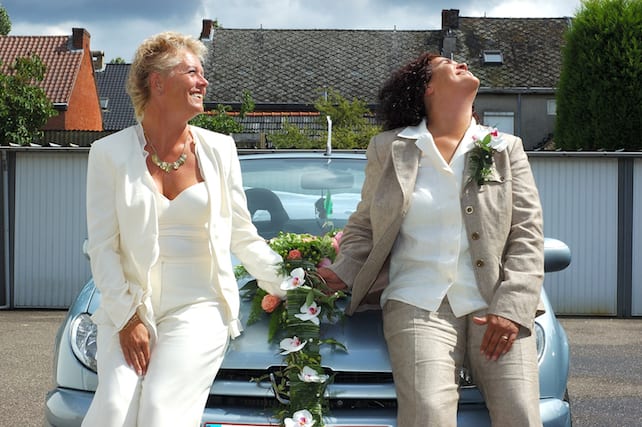 In an effort to become more gay-friendly, the Episcopal Church in the United States has decided to scrub the words "husband" and "wife" from Episcopal wedding ceremonies.
The changes to the denomination's revered Book of Common Prayer removes the phrase "the union of husband and wife" and replaces it with "the union of two people," and replaces the section that talks about part of God's intention for marriage being "for the procreation of children" with the phrase "for the gift of children" to make it more acceptable to same-sex couples who may wish to adopt.
Couples will still be able to opt for the traditional "husband" and "wife" when making their vows, but this will not be included in the standardized version.
On his Facebook page, Rev. Franklin Graham wrote, "I've got news for them—just changing their words in their ceremony won't make it right," adding, "You cannot change what God has defined."
"Through the centuries, people have tried to reinterpret, repackage or rewrite God's laws to suit themselves and their own evil desires," he said. "It's nothing new; but the end result is always the same. It's called disobedience—it's called sin. And sin brings God's judgment."
The change is not being well-received by the Church of England either.
Last October, Church of England Secretary General William Nye criticized the new wording and suggested it could lead to an official split. In a letter, which emerged earlier this month, Nye threatened to cut ties with the U.S. church, which is a fellow member of the worldwide Anglican Communion, if it introduces the new service as standard.
He urged the church to consider keeping the new service on "trial status" indefinitely to avoid "irrevocably redefining marriage," adding that the new rites "constitute a clear divergence from the understanding of marriage held throughout the history of the Christian church."
But the letter revealed a deep division even within the English church. More than 300 members signed an open letter distancing themselves from Mr. Nye's statements.
"Thank you for leading the way on this important issue," a group wrote in an open letter posted online.
"We are grateful that you have recognised that not all married couples can have children and that a gender-neutral approach will enable us to become a loving and inclusive church for all. We still have a few problems to sort out over here with those who keep threatening to leave, but we know that your actions have given great hope to thousands and shown that the church is not as homophobic as it can sometimes appear.
We therefore want to publicly 'dissociate' ourselves from Mr. Nye's initial response and are expecting 'stringent consequences' as a result of his actions."
Being a member of the worldwide Anglican Communion, the U.S. Episcopal Church comes under the loose governance of the Church of England, and consequently the Archbishop of Canterbury, Justin Welby. He has continued to affirm the traditional definition of marriage as between one man and one woman but has been criticized for failing to call homosexual sex "sin."