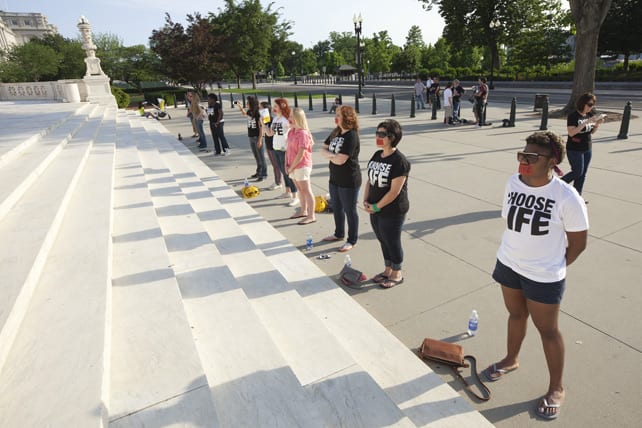 In a highly anticipated ruling, the U.S. Supreme Court struck down a California law that forced pro-life pregnancy centers to provide free advertising for the abortion industry. The ruling also affirms that the government can't force Americans to express messages with which they disagree. The case was NIFLA v. Becerra.
On behalf of the 5-4 majority, Justice Clarence Thomas wrote, "The people lose when the government is the one deciding which ideas should prevail… This Court's precedents are deeply skeptical of laws that 'distinguis[h] among different speakers, allowing speech by some but not others.'"
Alliance Defending Freedom applauded the ruling. "No one should be forced by the government to express a message that violates their convictions, especially on deeply divisive subjects such as abortion," said ADF President, CEO and General Counsel Michael Farris, who argued on behalf of the National Institute of Family and Life Advocates (NIFLA), the group that brought the suit.
"In this case, the government used its power to force pro-life pregnancy centers to provide free advertising for abortion. The Supreme Court said that the government can't do that, and that it must respect pro-life beliefs."
The California law required licensed medical centers that offer free, pro-life help to pregnant women to post or distribute a disclosure saying that California provides free or low-cost abortion and contraception services. The disclosure was also required to include a phone number for a county office that refers women to Planned Parenthood and others in the abortion industry. Additionally, the law forced unlicensed pregnancy centers to add large disclosures in multiple languages about their non-medical status in advertisements, which obscured and crowded out their pro-life speech. Failure to comply carried civil fines up to $1,000 per violation.
"The right of free speech protected in the First Amendment not only includes the right to speak, but also the right to not be compelled by government to speak a message with which one disagrees and which violates one's conscience," said NIFLA President Thomas Glessner. "The court correctly found that the California law clearly offends this principle. We are very pleased with the court's decision and for what it means for the many pro-life centers that serve and empower women in California and throughout the country."
Jor-El Godsey, president of Heartbeat International, also celebrated the ruling saying, "The justices have rightly supported the freedom of speech of over 200 pro-life pregnancy centers and medical clinics in California, so we can continue to help women choose life without being forced to post a state-sponsored message of abortion. This is an unquestionably major triumph for U.S. pregnancy centers working to save families from the sting of abortion. Today's ruling is the latest—and most significant—court victory for pro-life pregnancy centers which have been the target of similarly onerous free speech restrictions in New York, Connecticut, Maryland, Texas, Hawaii and Illinois."
Lawyers for California argued that the roughly 200 pro-life pregnancy centers in the state used "intentionally deceptive advertising and counseling practices that often confuse, misinform and even intimidate women from making fully-informed, time-sensitive decisions about critical health care," and for that reason should be instructed what to tell expectant mothers who went to the centers for help.
A unanimous three-judge panel of the United States Court of Appeals for the Ninth Circuit in San Francisco upheld the law, but today's ruling strikes down that verdict and blocks the law.