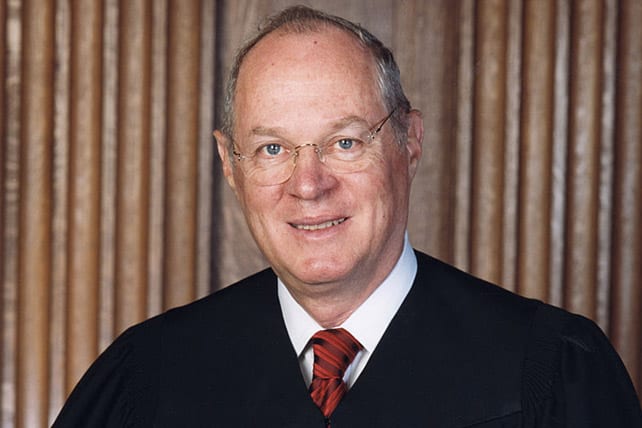 On the heels of landmark decisions on free speech, U.S. Supreme Court Justice Anthony Kennedy has announced he will retire. Kennedy's retirement will allow President Donald Trump to nominate a successor who could create the most conservative court in generations and put the landmark Roe v. Wade abortion-rights ruling at risk.
In a letter to the president, Kennedy said he will retire effective July 31.
"Please permit me by this letter to express my profound gratitude for having had the privilege to seek in each case how best to know, interpret and defend the Constitution and the laws that must always conform to its mandates and promises," Kennedy said in his letter to Trump. The court said Kennedy told his colleagues of his decision Wednesday.
Kennedy, an 81-year-old Ronald Reagan appointee, has been the court's pivotal vote for the last decade, joining liberal justices to legalize gay marriage and voting with conservatives to throw out campaign-finance restrictions.
Suggestions for Who Should Replace Anthony Kennedy
Catherine Glenn Foster, President & CEO of the pro-life advocacy group Americans United for Life, is calling on Trump to nominate a pro-life constitutionalist.
"The Supreme Court, and the American people, need Justices who understand that the Constitution is the Nation's highest form of precedent and that the Court should allow space for rearmament of poorly reasoned precedent, rather than prematurely declaring permanent victors in divisive constitutional debates," said Foster.
Family Research Council President Tony Perkins said Kennedy's retirement will "turbocharge" evangelical voters in the midterm elections.
"In a closely divided U.S. Senate, every vote matters," said Perkins. "If values voters needed a reason to engage in this election cycle—they certainly have it now. The American people are looking for yet another Supreme Court nominee in the mold of Justice Scalia as President Trump promised and delivered in Justice Gorsuch."
In addition to Gorsuch, the court has three members—Roberts and Justices Samuel Alito and Clarence Thomas—who have consistently voted to uphold abortion restrictions. All are Republican appointees.
"We are confident the president will choose a justice who simply decides the cases before them, as the Constitution intends," concluded Perkins.
Dr. Jerry Johnson, president and CEO of National Religious Broadcasters, said in a statement, "I urge President Trump to nominate a Constitution-honoring individual in the mold of Justice Scalia once again, and for the Senate to confirm him or her quickly."
By naming his successor, Trump could leave an enduring mark on the court, giving it a solid five-justice conservative majority. Chief Justice John Roberts may now become the swing vote.
Trump Has a List of Names to Succeed Anthony Kennedy
Kennedy is "a very spectacular man," Trump said at the White House. The president said he'll begin the search for a replacement immediately, adding that he has an "excellent list" of talented and "hopefully tremendous people."
Trump presented a list of 25 Supreme Court candidates during his campaign, the same list from which Justice Neil Gorsuch emerged to provide the sweeping rulings that protected free speech in a narrowly divided court (NIFLA v. Becerra, Masterpiece Cakeshop, Ltd. v. Colorado Civil Rights Commission, Arlene's Flowers v. Washington, Janus v. AFSCME). The White House developed the list with input from the conservative Federalist Society and Heritage Foundation.
Washington-based federal appeals court judge Brett Kavanaugh, a former Kennedy law clerk with close ties to the retiring justice, is a top contender, according to a U.S. official who spoke on condition of anonymity to Bloomberg.
Trump could also consider three federal judges he interviewed before selecting Gorsuch: William Pryor of Alabama, Thomas Hardiman of Pennsylvania and Amul Thapar of Kentucky. Other possibilities include federal appellate judges Raymond Kethledge of Michigan, who was considered for the Gorsuch seat but didn't get an interview, and Amy Coney Barrett of South Bend, Indiana.
Republicans hold a 51-49 advantage in the Senate, so they could approve Trump's nominee without any Democratic support.