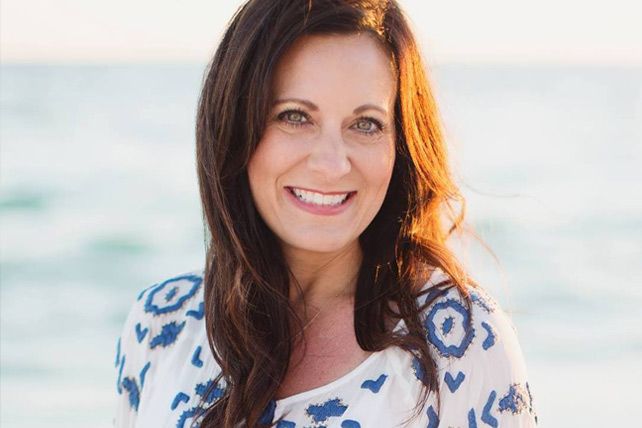 These marriage lessons from Lysa Terkeurst have been hard won. In 2017, Proverbs 31 Ministries head Lysa TerKeurst announced that due to her husband Art's infidelity and lack of repentance, she had no other option but to seek a divorce. And the pain their family was in left them reeling. Her shocking announcement went viral, but was mostly met with love, prayers and support from her followers. We are grateful for these insightful marriage lessons from Lysa Terkeurst.
New Developments for Lysa TerKeurst's Marriage
Recently, Lysa TerKeurst posted on her Facebook page surprising and hopeful news.
Her message reads: "A gift. A hard prayed for and fought for, glorious, messy, miraculous, honest, treasured gift of together. Happy Father's Day, Art! The way you have pursued the Lord, healing, and us… is evidence of God's supernatural grace and goodness. I'm praying for everyone praying for a miracle today. God has a plan but it will probably unfold in a way you never thought it would."
churchleaders.com reached out to Lysa for an interview but we were declined because of her schedule issues. So we're left to wonder: Is the TerKeurst marriage restored? What is the work that Art and Lysa have done to achieve the "treasured gift of together"?
For now, we're left to glean from Lysa's prolific social media posts for her 1.1 million Facebook fans. What's the hard work Lysa refers to in her above post?
Marriage Lessons From Lysa TerKeurst
Be there for one another when the bottom falls out. Lysa has dealt with treatment for breast cancer this last year. And Art has been present.
2. Trust that God is with you in the midst of the messiness of life.
3. Forgiveness is never a one-time thing. Forgive again and again.
4. Cling to God.
5. Be empathetic toward others even when they're in the wrong.
6. Humbly acknowledge your own issues and failings.
7. Trust God completely.
8. Believe that God can do the impossible.
9. Maintain a positive attitude.

10. Don't expect perfection.
This isn't some kind of formula that if you do these 10 things then God will restore whatever you've lost. Far from it. Rather, it's a peek into the life of a public person who's willing to authentically share her life. We're grateful that we can learn from Lysa TerKeurst's marriage and life. And we're eager to hear more about what God is doing in the TerKeurst marriage in the days to come.
_____________________________________
More Marriage Lessons From Lysa Terkeurst
Lysa Terkeurst blog – Lysa blogs at lysaterkeurst.com where she talks about how to walk with God and make it an invigorating journey through daily online devotionals, radio programs, online Bible studies, and more. Her tops pages are:
Rejection, Heartache, and a Faithful God – This is a post in which she talks about the end of her marriage to Art Terkeurst.
10 Prayers For Your Son – This is a post that will give you 10 powerful prayers to help you fight for the heart of your son. The prayers come from the book "Praying for Boys" by Brooke McGlothlin.
But God Verses –  This message is regarding the "but" in our lives. How Lysa has found a big defeater in her life by following up statements about what she wants or needs to do with the words "But I." She gives verses on how to combat this thinking.
10 Prayers for Your Daughter – In this powerful post, Lysa speaks about what we can do with that gap where our mommy capabilities ends and trusting God begins. How to trust God with everything beyond our control with our kids and not feel scared. We must fill that gap with the only thing that bridges the space between our limitations and our trust in God…prayer.
Sharing an Update With You – Here is where you'll find Lysa Terkeurst go live on Facebook sharing about how she went to get a mammogram. How she got a biopsy. And was diagnosed with breast cancer.
Lysa Terkeurst books – Lysa has authored many best selling books such as: Finding I Am, Uninvited, The Best Yes, Unglued, Made to Crave, and What Happens When Women Walk in Faith. You can find them all here.
Lysa Terkeurst tour – Lysa has a speaking schedule that includes conferences and events all over the United States. You can find her schedule here.
Lysa Terkeurst podcast – Lysa's podcast is called The Proverbs 31 Ministries Podcast. Renee Swope joins her as they talk about intersecting God's Word in the real, hard places we all struggle with. Every episode features a variety of teachings. Lysa shines Christ's light and shares her love for Jesus. Her ministry is far-reaching, saving souls and helping women across the globe.
Lysa Terkeurst quotes – 
"Feelings are indicators, not dictators. They can indicate where your heart is in the moment, but that doesn't mean they have the right to dictate your behavior and boss you around. You are more than the sum total of your feelings and perfectly capable of that little gift . . . called self-control."
Lysa TerKeurst, Unglued: Making Wise Choices in the Midst of Raw Emotions
"God can take what Satan meant for shame and use it for His glory. Just when we think we've messed up so badly that our lives are nothing but heaps of ashes, God pours His living water over us and mixes the ashes into clay. He then takes this clay and molds it into a vessel of beauty. After He fills us with His overflowing love, He can use us to pour His love into the hurting lives of others."
Lysa TerKeurst
"Not reaching back for what was lost in my yesterdays. And not reaching for what I hope will be in my tomorrow. But living fully with what is right in front of me. And truly seeing the gift of this moment."
Lysa TerKeurst, Becoming More Than a Good Bible Study Girl
"Rejection steals the best of who I am by reinforcing the worst of what's been said to me."
Lysa TerKeurst, Uninvited: Living Loved When You Feel Less Than, Left Out, and Lonely
"God's love isn't based on me. It's simply placed on me. And it's the place from which I should live . . . loved."
Lysa TerKeurst, Uninvited: Living Loved When You Feel Less Than, Left Out, and Lonely
After reading these marriage lessons from Lysa Terkeurst, what lessons would you add?