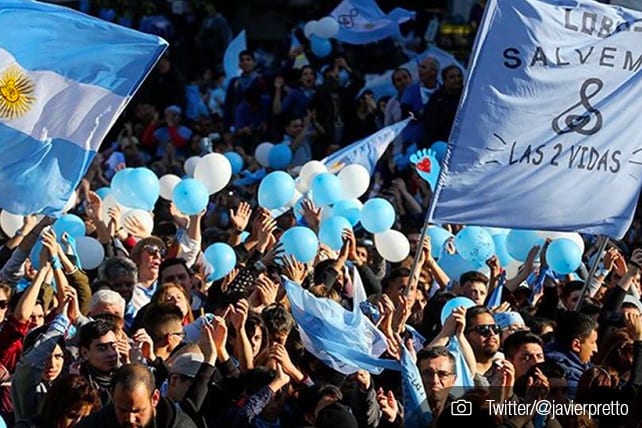 Argentina's senate has rejected a bill that would have legalized abortion in the first 14 weeks of pregnancy ensuring Argentina abortion laws remain unchanged.
The bill would have also legalized late-term abortions in cases of fetal deformity or to protect mothers' "psychological" health. The Catholic nation currently allows abortions only for rape or threats to a mother's life.
The defeat means lawmakers must wait until next year if they wish to continue efforts to ease abortion laws.
The vote followed 16 hours of often raucous debate but ended with 38 senators voting against the pro-abortion bill and 31 in favor with two abstentions and one absentee.
Argentina would have been the third Latin American country to make abortion generally legal, Reuters reports, after Cuba and Uruguay.
Some pro-choice campaigners started fires and lobbed missiles at police in Buenos Aires after the vote.  
Argentina Abortion Vote Stirred Contentious Debate
Prior to the vote, more than 3 million Argentinians held a March for Life in over 200 different cities in opposition to the proposal. The demonstrators included hundreds of doctors, some of whom waved signs declaring "I'm a doctor, not a murderer" and laid down white medical coats outside of the presidential palace to affirm that abortion is incompatible with their chosen profession. Argentina's Federation of Gynecology and Obstetrics Societies noted that it wasn't consulted on the bill, and expressed concern that doctors who refuse to commit abortions would have been penalized.
The pro-abortion campaign leading up to the vote claimed Argentina's abortion laws fail to prevent half a million abortions a year. Therefore, they argue, banning abortion accomplishes nothing but make abortions happening anyway more dangerous.
Americans United for Life disputed such claims in a 2012 report on the state of abortion in Latin America. Citing statistics from Argentina's National Ministry of Health, it found that illegal abortions represent a small percentage of maternal deaths, 74 out of 306 in 2007.
The lower house of congress in Buenos Aires had already passed the bill, with the country's president Mauricio Macri poised to sign it.