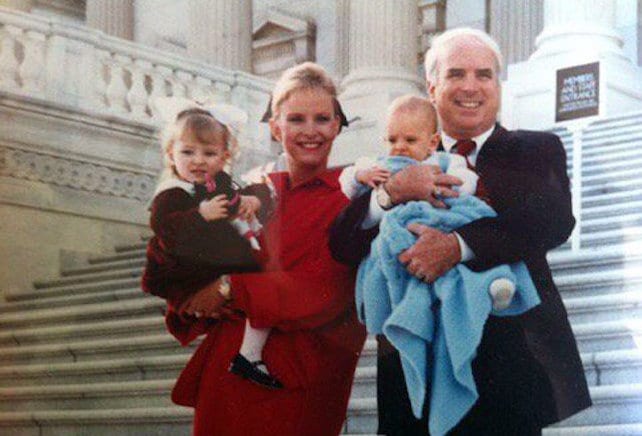 John McCain was best known for service in the United States Senate. Representing Arizona as a Republican, McCain was often called a "maverick" for his bipartisan efforts and more moderate political views on certain topics. He ran for President twice, in 2000 and 2008. McCain was also a man of faith.
Born in 1936, McCain was destined to have a military career. Both his father and grandfather served as Admirals in the United States Navy. After graduating from the U.S. Naval Academy, McCain served as a pilot. During the Vietnam war, he was captured and held in a POW camp from 1967 to 1973. McCain often said it was his faith that sustained him through those long years as a prisoner.
John McCain's Faith
Although not known for his faith as much as his military and political career, John McCain was raised Episcopalian and attended North Phoenix Baptist Church in Arizona for several years with his family. He spoke about his faith on various occasions in interviews. We've collected some of the highlights below.
"I pray every day. I ask for guidance. I ask for strength. I don't ask for personal success. I think it's wrong. When I was in prison, I told my fellow prisoners, don't pray to go home. Pray to go home with honor, if it be God's will, not just under any circumstances…"
"There were times when I didn't pray for one more day or one more hour, but I prayed for one more minute. So I have very little doubt that it was reliance on someone stronger than me that not only got me through, but got me through honorably."
About being the honorary chaplain in his prison camp: "because I knew all of the words of the Apostles' Creed and the Nicene Creed."
"No matter where you are, no matter how difficult things are, there's always going to be someone of your faith and your belief and your devotion to your fellow man who will pick you up and help you out and bring you through."
On attending North Phoenix Baptist Church: "I came into that church, I sat down, I got the message of redemption and love and forgiveness, and it resonated with me. I found going to that church was beneficial to me in my life."
John McCain's Family Asks for Prayers
In July of 2017, after a surgery to remove a blood clot above his eye, McCain was diagnosed with glioblastoma, which is a very aggressive brain tumor. McCain continued his work as a senator as he sought treatment for the cancer, even remaining in Washington D.C. until December 2017. After that time, he went home to Arizona to continue more treatment.
On August 24, 2018, McCain's daughter, Meghan, took to Twitter to announce her father had decided to cease receiving treatments for the glioblastoma. She thanked her followers for praying for her father and family.
My family is deeply appreciative of all the love and generosity you have shown us during this past year. Thank you for all your continued support and prayers. We could not have made it this far without you – you've given us strength to carry on. pic.twitter.com/KuAQSASoa7

— Meghan McCain (@MeghanMcCain) August 24, 2018
Just one day later, McCain passed away at his home in Arizona. Again, Meghan McCain took to Twitter to announce her father's passing.
I love you forever – my beloved father @SenJohnMcCain pic.twitter.com/Y50tVQvlVe

— Meghan McCain (@MeghanMcCain) August 26, 2018
John McCain was 81 years old. He leaves behind many friends, supporters and family members who deeply appreciate the service he offered the United States.