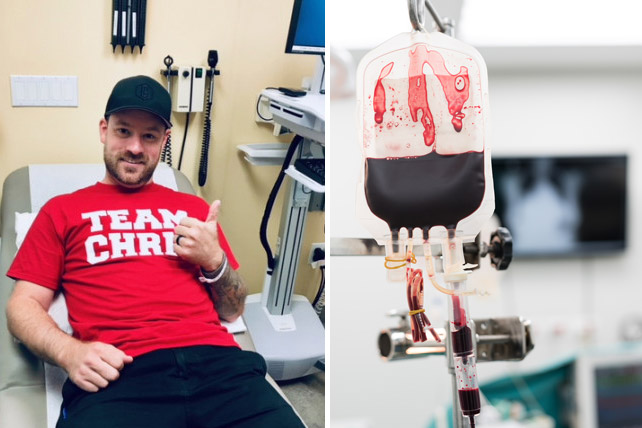 An unexpected phone call led pastor Matt Van Peursem on a three-day journey to save someone he's never met. Van Peursem, the lead pastor of Catalyst Church in Woodland, California, traveled to Idaho this week after discovering he was a perfect match for a man in dire need of bone marrow.
Three years ago, Van Peursem signed up with the National Bone Marrow Registry (BetheMatch.org) hoping to help a friend with a rare blood disorder. Although he wasn't a match in that case, his information was kept on file.
Then on September 26, Van Peursem was surprised to learn he was one of four perfect matches for a 60-year-old Boise man with acute lymphoblastic leukemia. After answering questions, the pastor was told the next day he was the only match willing to proceed.
Donating marrow is usually a three- to six-month process, but this patient's condition required quicker action, doctors said. So Van Peursem spent the past three weeks enduring blood tests, interviews, a physical and daily injections. The actual donation process on October 17 involves being strapped to medical equipment for up to eight hours.
"What does love require?" In This Case, a Bone Marrow Donation
Despite the pain, disruption to his schedule and time away from family, the pastor and father of three says donating is worth it. "For me personally—not just as a pastor but as a person—I try to live by the idea of asking myself, 'What does love require?'" says Van Peursem. "And in this situation, it means to give of my time and of myself for someone else."
He added, "If more people did that, we'd live in a better world."
Van Peursem calls his generosity a "simple act" that "goes a long way" and says his ordeal is nothing compared to the cancer patient's. He'd like to meet the recipient of his marrow, he says, but that wouldn't occur for at least a year.
The pastor of 15 years, who's also a police chaplain, says he knew he was still on the registry but didn't expect to be contacted. "The idea that it could be anyone out there is kind of strange, but it's a neat thing," he says of the match. "When you have the opportunity to save someone's life, you can't pass that up."
"Give up yourself to someone else"
Van Peursem hopes others will join the registry and that his friend finds a donor. For patients needing a transplant, only 30 percent find matching marrow from a relative. An estimated 3,000 people die annually because a compatible donor can't be located.
Kirsten Van Peursem, Matt's wife, is amazed by what her husband gets to do—and admits she wanted to get the call to donate. The donation has led to "great conversation" with the couple's three sons about "how to love and serve other people," says Matt Van Peursem. "It's neat to be able to give up yourself to someone else. That's a big part of what I do as a pastor and try to promote."