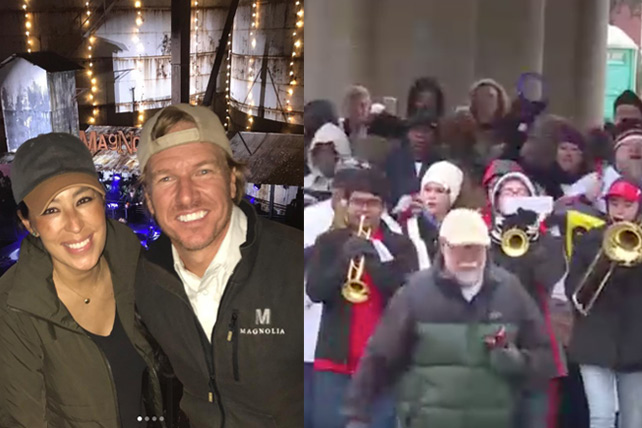 When The Church Under the Bridge in Waco, Texas, was informed their normal meeting spot under an overpass of I-35 could no longer accommodate them due to a freeway expansion project, Fixer-Upper stars Chip and Joanna Gaines stepped in to offer help. This weekend, at the church's very first service on the Gaines' property, the couple attended to show their support.
The Gaines are "not just people who've done well in business; they are Christians that really want to do good in our community," Church Under the Bridge pastor Jimmy Dorrell told reporters.
Chip and Joanna Go to the Church Under the Bridge After It Was Displaced
Chip Gaines learned of the church's need when reading an article in a local Waco newspaper. The church normally meets under the overpass because most of the 200-300 attendees are homeless and Dorrell does not want to make them uncomfortable by holding services in a traditional location. The church is "not bound by the mindset that we have to have pretty buildings and nice stuff," Dorrell explains. He told reporters if they could have pitched a big tent somewhere during the freeway expansion, they would have done that. Instead, the Gaines offered their Magnolia Market at the Silos property in downtown Waco, which has become a very popular tourist attraction.
Every week, about 30,000 people visit Magnolia Market at the Silos, which offers shopping, gardens, food trucks and more. Since Magnolia Market is not open on Sundays, though, the Gaines were able to offer it to the church.
Marching to the beat of "When the Saints Go Marching In," churchgoers walked from their "under the bridge location" to Magnolia Market at the Silos on Sunday, March 3, 2019, and had their first service there.
According to local news, Chip and Joanna Gaines were at Magnolia Market at the Silos to greet the churchgoers. The couple stayed through the service, which included members telling their testimonies. One church member told about leaving a life of prostitution to follow God. Dorrell was pleased Chip and Joanna were there to hear some of his members' testimonies. He was also encouraged by the couple's demeanor. 
"I was really pleased because they were really humble. They didn't come there to be seen. I even had to ask them to come up before the church and speak. They were very courteous and thankful," Dorrell said.
Dorrell, who also oversees Mission Waco, said Joanna thanked the church for what they were doing for the community. Among their work with the poor and homeless, Mission Waco runs a grocery store, Jubilee Market, which provides affordable fresh food to those in need in North Waco, which is considered a food desert. According to Dorrell, Chip Gaines has stopped into the grocery store on more than one occasion and appreciates the service it provides. Chip Gaines first heard about the ministry while attending Baylor University, also located in Waco.  
The I-35 expansion is scheduled to take three to five years. While the Gaines have offered Magnolia Market for one year, Dorrell says "we may get to the stay the whole time. We sure hope we do."