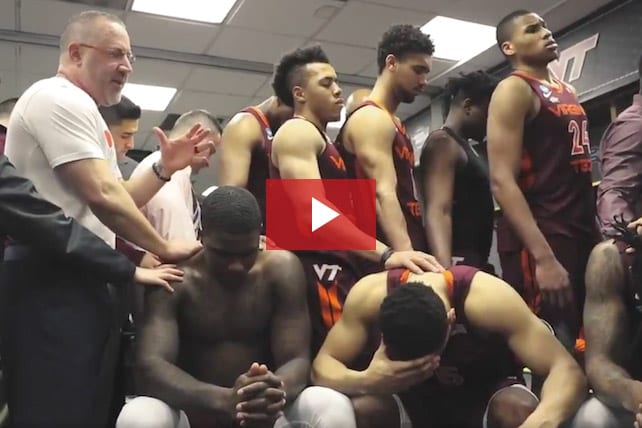 Wow! Can this coach ever pray a blessing over his team! March Madness wraps up this evening. For all but the two teams playing in tonight's big game, the chance at victory has come and gone. Virginia Tech's Coach Buzz Williams wants to make sure his players know they have very bright futures ahead of them, despite the loss they suffered. Williams prayed for the team's three graduating students in the locker room after a crushing defeat by Duke in the Sweet 16. His prayer is a blessing prayer to end all blessing prayers and will move you to tears—even if you don't follow college basketball.
How great is this from @Hokie_Hoops coach Buzz Williams praying with his team over his 3 seniors.

"Your character will always win. I love you. In Jesus name, Amen."
– @TeamCoachBuzz
pic.twitter.com/uBXLUemeCM

— Jason Romano (@JasonRomano) March 31, 2019
Williams prayed for Ty Outlaw, Justin Robinson and Ahmed Hill, players who have been with him for the majority of his five years as coach of Virginia Tech men's basketball. According to sports commentators, these young men have built Virginia Tech into a respected contender in the national college basketball scene, a fact that is clearly not lost on Williams and is apparent in his prayers.
Coach Williams: These Young Men Will Lead Fortune 500 Companies and Be Good Men
Not just looking to the immediate future, but also down the line, Williams prayed for Robinson: "I pray for his life as a leader, I pray for his life as a father, I pray for his life as a husband."
"As he becomes the governor, as he becomes the mayor, as he becomes the head coach, anoint him with the opportunity to impact people's lives," Williams said as he prayed for Robinson.
Williams thanked God for Outlaw's and Hill's respective mothers, who he says supported their sons to be able to go to school and play basketball.
Indicating that Hill had had a troubled past or difficult family situation, Willaims said, "I pray that as he becomes a husband, the examples that he's seen since he's been here will break the cycle in his life. I pray that as he becomes a leader, as he becomes the CEO of a Fortune 500 company, that he would continue to dispel every potential possible stereotype that's been labeled to him."  
Williams Asks for Humility and Guidance
Williams also prayed for the players to have humility. "God I pray that you would fill these guys with the right kind of humility and the right kind of love—that it's not selfish, that it's not for them…that they would know that the best kind of leadership is servant leadership."
"Help them not to go astray. I pray that your spirit would guide the steps that they take."
Williams ended his prayer assuring the players he would always be there for them. "Anytime you need a hamburger, anytime you need a place to stay, you call me. You'll have my cell number the rest of your life…I will always take care of you. I will always take care of your mom."
"I'm incredibly thankful for the example you've set for my sons. I'm incredibly thankful for the example you've set for my daughters. Your character will always win," Williams concluded.
It's clear that character is a big theme in the Virginia Tech basketball program, and that Williams is an awesome coach. Telling the players he loves them, the heart of God the Father was on display that night in the locker room.
Coaching and Youth Ministry
Watching the prayer made me think of youth ministry. There are so many milestones youth pastors witness in the lives of young people. Often a youth pastor will see a student through the transition from middle to high school and then beyond. They may see that student go off to college or make difficult decisions about which direction to take their career and life. It's not any bit less weighty than an NCAA basketball championship, even if these life transitions don't include ticker tape and cheerleaders.
How might you incorporate a blessing like the one Coach Williams gave his players for the graduating students in your youth group? More importantly: How can you show up for them, week after week, and speak words of encouragement and blessing?