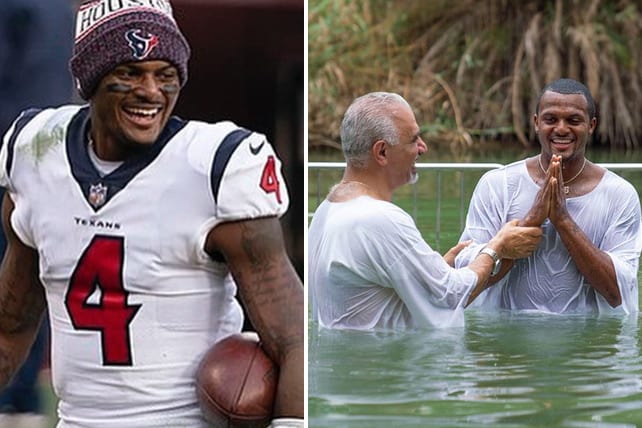 Houston Texans quarterback Deshaun Watson was recently baptized in the Jordan River in Israel. 
"This is a part of the world which gets a lot of attention internationally, and this is a chance for me to look beyond the headlines and learn more about the history and culture of this land," Watson told ABC13. 
Watson joined Quincy Avery, founder of QB Takeover, a training program for quarterbacks, on a week-long trip sponsored by the organization America's Voices in Israel. 
On their website, America's Voices in Israel explains its mission of trying to combat "distortions and misrepresentations about the Jewish State" by having celebrities and other influencers from the Latino and African-American communities travel to Israel and share firsthand accounts of their experiences. The organization makes no secret of the fact that they're trying to sway popular opinion on Israel by having these celebrities share their positive experiences with their "countless admirers, followers, and the general public." "Millions have read Facebook, Twitter, and Instagram posts from our influential guests, both during and after their visits to Israel," the site says. 
In the past, America's Voices in Israel has taken actor Mario Lopez on a similar trip. The group has also sent Hispanic Telenovela stars, reporters, and journalists to the Holy Land.
A story on America's Voices in Israel Instagram showed Watson and Avery enjoying several meals, visiting the town of Capernaum, tubing on the Sea of Galilee, and being baptized in the Jordan River.
On Watson's Instagram account, he also posted a picture of himself praying in the desert.
Watson has been a Christian since he was in high school. He prayed about where he should go to college, and believes God led him to Clemson. Since coming to Houston to play for the Texans, Watson attends The Woodlands Church, a large church in Houston led by Kerry Shook. Watson describes his faith as being "very big" and that it gets him through "the good times and the bad."