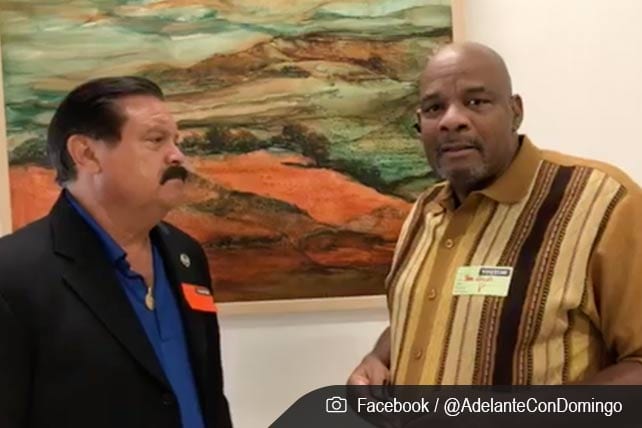 Among those coping with the aftermath of this weekend's mass shootings is a Texas pastor and civic leader whose daughter was shot three times. The Rev. Michael Grady spoke to NPR and on Facebook Live about his 33-year-old daughter Michelle Grady, who underwent multiple surgeries after being shot three times "by a madman" while leaving an El Paso Walmart.
"We're praying for divine intervention," says Grady, pastor of Prince of Peace Christian Fellowship. "We're mixing faith and medicine together so that hopefully she will be able to recover." On social media, a relative posted Sunday evening: "Michelle has successfully made it through her second surgery & is resting up. Thank you for the prayers & healing vibes thus far. Keep it coming!"
"Our communities are devastated"
Twenty-two people were killed and 26 were injured Saturday morning in El Paso when a 21-year-old gunman opened fire on back-to-school shoppers. Officials have labeled the attack domestic terrorism, saying the gunman apparently targeted Hispanics in the border community. At least seven Mexican nationals were among the dead. The gunman, now in custody, faces capital murder charges and possibly the death penalty.
Thirteen hours later, another massacre occurred in Dayton, Ohio, leaving nine dead and 27 injured in a busy restaurant district. The 24-year-old gunman, whose victims included his sister, was killed by police.
Grady, former president of the El Paso chapter of the NAACP, spoke at the hospital Sunday to Domingo Garcia, national president of LULAC (the League of United Latin American Citizens). After giving an update on his daughter's condition, Grady urged politicians to take action, change their rhetoric, and "do something about this craziness" of gun violence.
"People are terrified," Grady says. "Our communities are devastated. People are afraid to go into any location where there's a large group of people. You should be able to go to Walmart and you should be able to move throughout the city and know that you and your loved ones are safe."
"It's time for us to do something"
Grady, who's been a pastor for more than 50 years and served as president of El Paso's Interdenominational Ministerial Alliance, says Texas Gov. Greg Abbott should call a special legislative session to pass "common-sense gun legislation."
Saying the El Paso shooting is "indicative of the climate in this nation," Grady also challenges President Trump to step up. "You have created an environment that's hostile," the pastor says. "People are angry…and they believe you've given them permission to act out of their aggression and their anger. I hope that you will change your rhetoric and do something that's going to change our nation and bring people together instead of divide."
Grady says he'll be contacting local religious leaders to participate in a march planned for next Saturday. "El Paso is not going to lay down and settle for this kind of carnage. We're going to come together in unity, in friendship, and in fellowship, and we're going to make a difference," he says. "We need to stand together in unity and confront this hate."