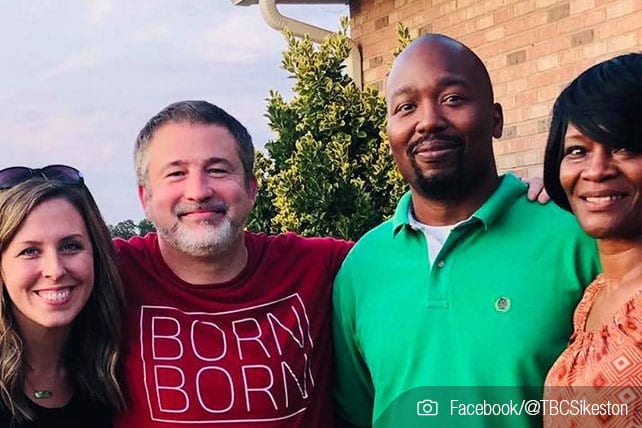 Two congregations in Sikeston, Missouri have merged into one church. While a church merger usually comes about due to one congregation declining in size or facing financial difficulty, this merger happened for a different reason. Pastors Kenny King and William Marshall decided their congregations, which were predominantly black and predominantly white, respectively, would be better served (and better able to serve) together.
"I've been here for about 14 years and always been looking for a like-minded brother," Marshall told David Jenkins of the Standard Democrat. He found that person in King, with whom Marshall became acquainted in the fall of 2017 when the two attended an event called Fields of Faith. King was speaking at the event, and as he spoke, Marshall says he thought "I need to know this guy."
Sikeston Pastors Bond Over Racial Reconciliation
The two met for lunch after the conference was over and began encouraging one another in their respective ministries. King was the leader of Smith Chapel, a mostly black church, while Marshall led Trinity Baptist, a mostly white church. The two bonded over their view of Scripture and their passion for racial reconciliation. "William had been doing some ministry down on the West End, and I came back to Sikeston with the same idea of racial reconciliation," King told the newspaper. The pastors would preach at each other's churches on occasion, which was met with enthusiasm from their church members. 
King says both of their congregations were in a time of transition when the thought of merging came up. "We were healthy; we were trying to figure out what's next. So he had the crazy idea of looking into merging the churches," King explains.
Neither church approached the merger as a final solution to a problem that needed to be solved, Marshall emphasizes. "I think some people might view this as an act of desperation," he explained. "Two churches are not going to survive, and so they have to come together, but that wasn't the situation. Both churches were in a healthy situation, and we were able to avoid some pitfalls because of that."
The merger, which occurred on September 15, has gone pretty smoothly so far. On September 8, both churches were given the opportunity to vote on whether or not to merge. The newly formed church, which came together with 85 members, decided to name itself Grace Bible Fellowship. King explains there is a reason grace is in the name of the church. Speaking about the potential pitfalls that might arise when two churches of differing demographics come together, King said:
We understand there are going to be some problems, issues that will arise but we want to lean into that. The reason why grace is in the name is we've been shown grace by God, but we also want to give grace to each other. We want to lead with grace. We want to think the best about people and give people the benefit of the doubt instead of letting these issues divide us.
How Will the Merger Work?
Services are being held at the former Trinity Baptist building, while the former Smith Chapel building is going to remain in the church's possession but will be used as a community outreach center. Pastors King and Marshall are currently collecting input from the community about the best use of the space, potentially serving as a meeting place for children's programs and groups. 
As far as which pastor will preach when, Marshall indicates they are still working that out. "We don't want to plan just week-to-week, we want to have a good, long-range plan," he explains. Regardless of who is preaching, though, Marshall says they are committed to preaching "through books of the Bible." 
More than anything, the pastors believe the merger is about living out the gospel and not necessarily to make a statement about unity or even racial reconciliation. "This happens because of the gospel. Not because we are going to sacrifice it on the altar of unity," King said. "Unity is an implication of the gospel; it flows from the gospel. It isn't necessarily the gospel."
Still, the merger is bound to make a statement about reconciling the past. 
"We realize this community has a history of segregation, of racial strife so to speak," King said. "We believe that Jesus has promised, as we show our unity in truth, not just a superficial unity, but a unity in truth that the world will catch that vision as well. They will say 'we are better together,' and that the gospel of Jesus Christ has the power to keep us together and not keep us separated."