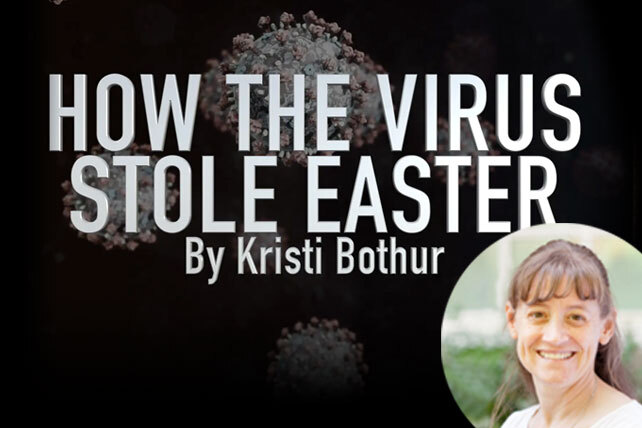 For many who see Easter as a time to celebrate corporately with church family and friends, loved ones and neighbors, Easter 2020 was a time of loss and sadness. But for Kristi Bothur, who has experienced incredible loss of her own, this Easter contained a message and a hope that not even the coronavirus could steal away. She hopes that others, too, will see that when all was said and done, we didn't need the fancy clothes and the loads of chocolate and the big church services to celebrate Christ's resurrection.
"Maybe this will be the year that people realize that Easter doesn't come from a store," Bothur shared in an interview with ChurchLeaders.com.
The thought prompted Bothur to write a poem—an exercise in creativity that she hasn't practiced in a while—about how different Easter 2020 was, and yet how similar it has been to every other Easter Christians have celebrated for thousands of years now.
Kristi's Easter Poem
The poem, titled "How the Virus Stole Easter," borrows its structure from Dr. Suess' classic "How the Grinch Stole Christmas." In that Christmas-time tale, the Grinch, a hard-hearted isolated creature who loathes his neighbors, the Whos in Whoville, steals all of the town's Christmas gifts, decorations, and fancy food while everyone is sleeping on Christmas Eve. This same Grinch is astounded on Christmas morning when, though confused at first, the Whos come out of their homes and celebrate the holiday in much the same way they usually do: By gathering as a community around the town square to sing carols and greet one another with joy and thanksgiving.
Please download this video for use in your church absolutely free.
In a similar manner, Bothur believed—before Easter Sunday even came—that the holiday would be the same for believers who have placed their hope and their trust in the risen Savior. The day before Palm Sunday, Bothur saw a post on Facebook from a friend of a friend. The person posted about a reporter's comment following a press briefing by President Trump. After it became clear the United States would not be able to celebrate Easter by opening back up its churches, the reporter said this would be the first time America wouldn't be able to celebrate Easter. The post went on to explain that the reporter obviously didn't understand what Easter was all about. This thought led Bothur to write the following lines (to read the poem in its entirety, go here):
April approached and churches were closed.
"There won't be an Easter," the world supposed.
"There won't be church services, and egg hunts are out.
No reason for new dresses when we can't go about."
Holy Week started, as bleak as the rest.
The world was focused on masks and on tests.
"Easter can't happen this year," they proclaimed.
"Online and at home, it just won't be the same."
Maundy Thursday, Good Friday, the days came and went.
The virus pressed on; it just would not relent.
The world woke Sunday and nothing had changed.
The virus still menaced, the people, estranged.
"Pooh pooh to the saints," the world was grumbling.
"They're finding out now that no Easter is coming.
"They're just waking up! I know just what they'll do!
Their mouths will hang open a minute or two,
And then all the saints will all cry boo-hoo.
"That noise," said the world, "would be something to hear."
So it paused and the world put a hand to its ear.
And it did hear a sound coming through all the skies.
It started down low, then it started to rise.
But the sound wasn't depressed.
Why, this sound was triumphant!