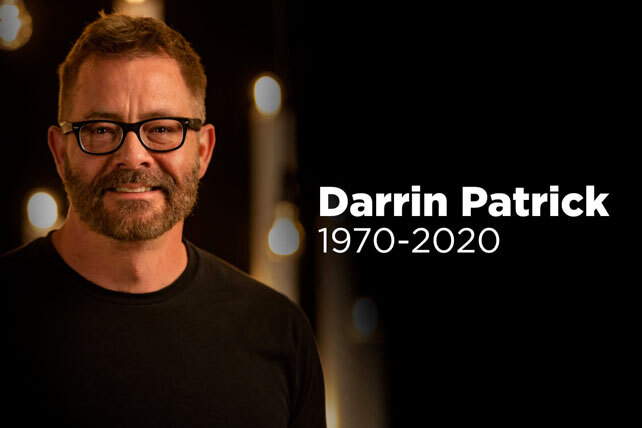 Darrin Patrick who was a teaching pastor at Seacoast Church in South Carolina, died unexpectedly on May 7, 2020. Seacoast Church is a multisite megachurch in Mount Pleasant, South Carolina.
The Seacoast Church issued this statement regarding Darrin Patrick's death:
"We are saddened to announce the sudden passing of Pastor Darrin Patrick. Darrin was a loved member of the Seacoast family, the teaching team, and pastoral staff and we are mourning his loss. Darrin had a gift for teaching the Word and a heart for encouraging other pastors. God allowed Seacoast to be a part of Darrin's story in a time when he needed a family. He was a gift to us and we are thankful for the time the Lord gave him to us. His influence and impact cannot be measured. We are surrounding the Patrick family with our prayers and support during this time."
Patrick's tweet on May 5 reminds us that as our caregivers provide care for others, they themselves need our care.
In this episode, @gregsurratt and I discuss the loneliness of ministry and the need for friendship for #pastors.
Listen here – https://t.co/MYzRQ7RZgL pic.twitter.com/ELDiBpjaoW

— Darrin Patrick (@darrinpatrick) May 5, 2020
Darrin Patrick served as a teaching pastor at Seacoast Church, and was also the founding pastor of The Journey Church in St. Louis, MO. He is a founding member of the Pastor's Collective and the author of multiple books including the Dude's Guide to Marriage.
Patrick's story was one of redemption. And friends and colleagues today are reeling from his sudden death. The Pastors Collective podcast tells the story of Patrick's "fall from grace" and restoration. The podcast description: "Confronted for having an emotional affair with a member of his congregation, Darrin Patrick found himself in a crisis. Frightened, Darrin questioned his passion and had thoughts of quitting. With close friends, counselors, and elder pastors, Darrin recognized his behavior, made amends with those he'd hurt, and healed the wounds that caused him to change. Now, Darrin knows he was called to serve. He uses this re-found passion to encourage those who are struggling and to help the next generation."
Patrick's friends and colleagues today are reeling from his sudden death.
Mourning today the loss of my friend and fellow pastor @darrinpatrick. Darrin was such an encourager to me over the years. Sat at my table. Preached at our church. We know grief of Amie and family must seem unbearable. We love you and are praying for you. https://t.co/JvpXArYG6R

— J.D. Greear (@jdgreear) May 8, 2020
Pastor @darrinpatrick has died. He was known for speaking vulnerability about the difficult parts of ministry and the ways he grew personally and spiritually after leaving the church he founded https://t.co/mXrVGQi7KH

— Christianity Today (@CTmagazine) May 8, 2020
Mourning @darrinpatrick today. Praying for Amie. Crying all morning. God help us. https://t.co/q1xw4Q9RYx

— Ed Stetzer (@edstetzer) May 8, 2020
Additional information on memorial services will be shared on seacoast.org as plans are formalized. Our prayers are with Patrick's family and church.