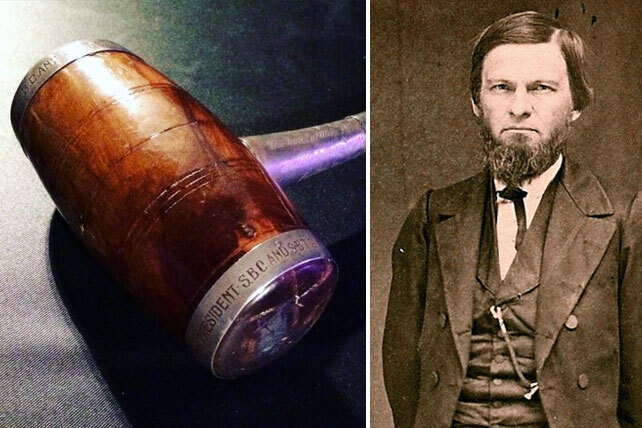 Southern Baptist Convention (SBC) President J.D. Greear says it's time to retire a gavel that has long been used to call convention meetings to order. The Broadus gavel belonged to SBC forefather John A. Broadus, a slave-owner and president of the denomination's flagship seminary in the 1800s. Although Broadus' views on slavery seemed to have evolved toward the end of his life, Greear believes using the gavel today sends a mixed message and doesn't serve the future of the denomination.
"While we do not want to, nor could we, erase our history, it is time for this gavel to go back into the display case at the Executive Committee offices," Greear wrote in an op-ed published on Baptist Press. Quoting his friend and president of Guidestone Financial Resources, Greear indicated the move would be in line with O.S. Hawkins' advice to "be less about 1845 and more about 2025." 
Broadus Gavel Is One of Many
Greear wrote that when he used the gavel last year to call the convention's 2019 annual meeting in Birmingham, Alabama to order, he felt conflicted about using it. The Broadus gavel has been in use since 1872, but convention presidents can choose from a variety of gavels to use, a fact that Greear says he did not know until later.
In lieu of the Broadus gavel, Greear said he would rather use two gavels in particular: the Annie Armstrong gavel or the Adoniram Judson gavel. Both Armstrong and Judson were SBC missionaries. Armstrong "was known for not only being a pioneer advocate for missions and church planting, but fought to send the first female African-American missionaries." Judson was a missionary to Burma (Myanmar) and managed to translate the entire Bible into Burmese. 
Who Was John A. Broadus?
Members of the SBC may be more familiar with the name of John A. Broadus after a report was published in 2018 exploring the SBC's history of slave-owning, promoting the Confederacy, and propping up Jim Crow laws. At the behest of SBTS president Albert Mohler, faculty members from Southern Baptist Theological Seminary (SBTS) and Boyce College spent 12 months cataloguing skeletons in the convention's closet, so to speak, in an effort to acknowledge the role it had played in racism in the United States. 
Broadus was one of four founding faculty members of SBTS, located in Louisville, Kentucky and founded in 1859. Broadus and the other three founders owned 50 slaves between them, the report found. The report also summarized the founders' arguments about the justification of slavery. It noted:
They argued first that slaveholding was righteous because the inferiority of blacks indicated God's providential will for their enslavement, corroborated by Noah's prophetic cursing of Ham. They argued second that slaveholding was righteous because southern slaves accrued such remarkable material and spiritual benefits from it.
The retirement of Broadus' gavel may be compared to the removal of Confederate monuments that have occurred and continue to occur around the country. While a gavel used to bring order to a meeting (a substantial meeting, granted) is not as visible a symbol as a statue in a city square, it is significant nonetheless and retiring its use would make a statement. Broadus is a forefather of the convention, revered by many a Southern Baptist for his leadership in the early days of the convention. 
Some may argue that while Broadus advocated for slavery earlier in his life, his views evolved in later years, and therefore it would be appropriate to continue using the gavel. However, Greear says that while he is thankful Broadus changed his views, "the reality is that given the role that slavery played in the formation of the SBC, mixed messages were still being sent."
The SBC's More Recent History With Racial Issues
Three years ago at the convention's annual meeting held in Phoenix, Arizona, a resolution penned by Pastor Dwight McKissing condemning alt-right ideology and white supremacy failed to reach the two-thirds majority vote it needed from the Resolution Committee in order to be considered by convention delegates. Outcry among those within and outside of the denomination caused the resolution to be brought before all the delegates, after significant editing. When brought before the delegates, it passed unanimously. Still, the initial hesitation shown for the resolution left a lot of hurt feelings and suspicion over the convention's desires to cut ties with its racist past.
In 2016, another resolution was proposed, asking members to cease displaying the Confederate flag. Although met with pushback, that resolution eventually passed, too. While some argued that using a resolution to dissuade members from using the flag waded into political correctness, others view it as a stumbling block to African Americans and others who find it offensive. In other words, the flag does not reflect a denomination wishing to reach anyone and everyone.
In the same way, Greear feels "retiring the Broadus gavel sends a symbolic yet tangible message that we are a convention of all people, made in the image of God, and who matter deeply to God."