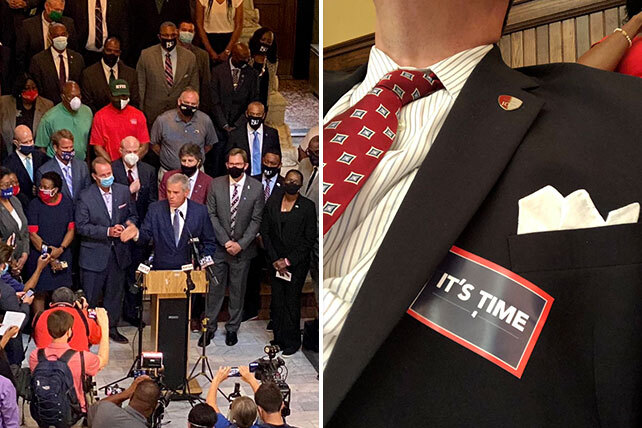 Last week, the Mississippi Baptist Convention made a public statement calling for the legislators in that state to change the Mississippi state flag. The group, which is a local representation of the Southern Baptist Convention, claimed it was a moral issue and that, as Christians, they could not continue to support the display of a Confederate and tacitly racist emblem on the flag. Another evangelical Christian leader hailing from the Reformed sphere, Ligon Duncan, also called for a change to the Mississippi flag. Moving quickly, the legislators considered the opinion of the evangelical leaders, coupled with the voices of other individuals and groups, and voted yesterday to change the state flag. For the first time since 1894, the state will have a new flag, absent of the Confederate symbol many people associate with white supremacy. 
"The current State flag must come down and be replaced by a symbol that unites us all as friends and neighbors, fellow citizens who genuinely care about one another's well-being," Duncan writes in a blog post. 
Duncan, who says he was asked by Mississippi Lt. Governor Delbert Hosemann and Speaker of the House Philip Gunn to give a statement about the flag, gives his reasoning for this stance based on a number of factors, one of which being the philosophy that Robert E. Lee himself lived by: to deny oneself. 
Duncan is well-versed in the history of his ancestors and the southern culture from which he descends. He writes:
I have lived and worked in Mississippi for over half my life, but I was born into a family of eight generations of South Carolinians. My forbearers fought for the Confederacy and their descendants have been re-fighting "The War" ever since. I grew up reading Lee's Lieutenants, a framed print of Everett Julio's "The Last Meeting of Robert E. Lee and Stonewall Jackson at Chancellorsville" hung on my Father's office wall, the women of my lineage were United Daughters of the Confederacy, and my father was the Chaplain for the 16th Regiment, SC, Volunteers Camp 36, Sons of Confederate Veterans. I was reared on "The Lost Cause," served as a U.S. Senate Page under J. Strom Thurmond (R-SC), and I do not despise my ancestors.
While he doesn't despise his ancestors, though, Duncan says he does love his neighbors. "I do love my neighbors. All of them. And I want all of us, together, to be able to be proud of our State Flag." 
The scholar and pastor also explains he understands that some don't view the Confederate emblem as a symbol of white supremacy and suppression of African Americans. For these people, the Confederate flag represents something different, even "laudable":
I fully understand and appreciate that many good people of this great State view the Confederate Flag (the Battle Flag of the Army of Northern Virginia) merely as a symbol of heritage, and not as a sign of support for slavery and white supremacy. For many it represents a rejection of "political correctness," reverence for ancestors, respect for the past, acknowledgment of our state's history, and other perfectly understandable and laudable things. 
However, Duncan says as a historian, he can't ignore the fact that the Confederate flag also has a dual, deeply troubling and racist meaning:
However, as a historian, fully sympathetic to my people and our heritage, I have to say that the symbols of the Confederacy, represent not simply "the preservation of a way of life" and "States Rights," but "States' Rights to perpetuate chattel slavery, by denying Black people social and political equality" (these things are explicitly in Mississippi's Ordinance of Secession), and then, to make things worse, especially after most of the men who actually fought the War died, these symbols have been persistently and widely used to send a message of oppression, terror, inferiority and exclusion to the Black people of the South in general, and our State in particular.