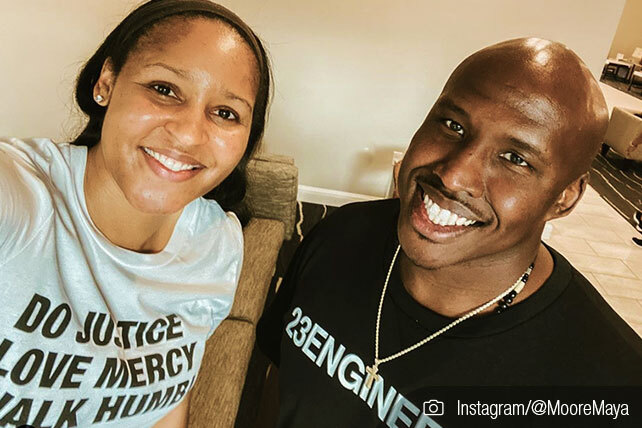 Of all the victories and accolades WNBA star Maya Moore has experienced, none quite compares to what she calls "a worshipful moment" outside a Missouri prison on Wednesday. After a 13-year friendship with a prisoner she worked to clear, Moore saw him walk out as a free man.
View this post on Instagram
Jonathan Irons, now 40, was convicted of burglary and assault as a teenager, tried as an adult, and sentenced to 50 years in prison. While conducting prison ministry as a teenager, Moore, now 31, befriended Irons and became interested in his case—largely due to the advocacy work of her godparents, Reggie and Cheri Williams. Moore even put her career on hold to pursue justice, stunning the basketball world by walking away during her prime.
A 'very weak and circumstantial' Case
Irons, a 16-year-old African-American living in poverty, was convicted in 1998 for breaking into a suburban St. Louis home and shooting the homeowner, Stanley Stotler. Weeks later, a hesitant Stotler picked Irons out of a lineup, but there were no witnesses, and no physical evidence pointed to Irons. Police said he confessed, but no recordings were made and no notes were kept. Irons strongly denies confessing or being involved in the crime.
An all-white jury convicted Irons, who clung to his faith and educated himself behind bars. But he wouldn't agree to parole, which would have required an admission of guilt.
In 2007, as 18-year-old Maya Moore was preparing to head to college, she met Irons through a prison ministry at Jefferson City Correctional Center. They developed a strong friendship—one Moore didn't publicize until 2016. Irons admits he was initially skeptical of the teenager but soon discovered her competitive spirit. "She is light," he said. "Pure light."
After years of research and advocacy, Irons' team discovered that fingerprints from another suspect hadn't been given to his original public defender (who discouraged him from testifying). This March, a judge ruled that the case against Irons was "very weak and substantial at best," and after failed appeals by Missouri's attorney general, the county prosecutor declined to retry the case. So on July 1, Irons was freed after serving 22 years in prison.
Moore had helped raise funds to hire high-profile defense attorney Kent Gipson. "Until Maya Moore got involved," Gipson says, Irons "just really didn't have the resources to either hire counsel or hire investigators. It's big to sacrifice a year of your career in your prime to do that." 
Moore's Surprising Timeout for Ministry Work 
Moore, who's won two college championships, four pro championships, two Olympic gold medals, and Rookie of the Year and MVP titles, stunned the sports world in February 2019 by announcing she was taking a break from basketball. "My focus," she said, "will instead be on the people in my family, as well as on investing my time in some ministry dreams that have been stirring in my heart for many years."
Prior to that decision, the Minnesota Lynx star had become a passionate advocate for racial justice. In the wake of police shootings of African Americans as well as sniper killings of Dallas police officers, Moore launched a social action campaign called Win With Justice.
All that work stemmed from her faith, which Moore calls "the core of who I am." In middle school, after her single mother lost her job, the pair moved to Atlanta and attended Creflo Dollar's World Changers Church International. At the University of Connecticut, Moore was active with the Christian ministry Athletes in Action. She says she's found purpose in fighting for criminal justice reform and trying to "seek justice, love mercy, and to walk humbly with your God" (Micah 6:8).