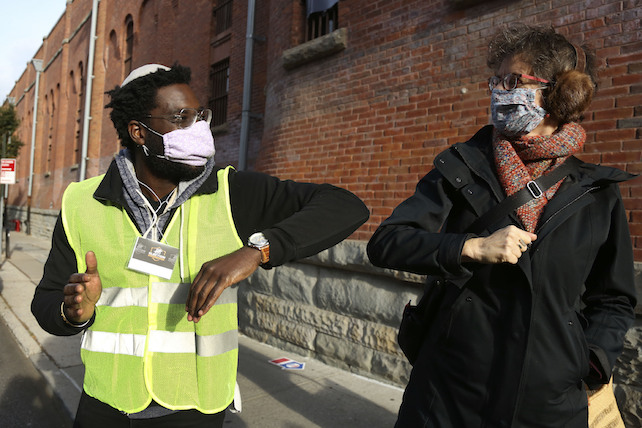 NEW YORK (AP) — Yehudah Webster, wearing a neon vest with an "Election Defenders" tag around his neck, started his Tuesday outside a Brooklyn polling place. Only the gray yarmulke Webster wore hinted at his specific role: faith-based observer on a uniquely anxious Election Day in America.
Webster, an organizer with the progressive group Jews for Racial and Economic Justice, is part of a broader network of faith leaders fanning out to the polls nationwide – to support voters by providing a peaceful presence and, if necessary, defusing any tense moments. The religious community's engagement on Election Day goes beyond physical attendance at the polls, too, with other clergy offering up public prayer for an unobstructed electoral process.
That faith-motivated witness of the nation's ballot-casting follows a presidential race that saw both parties' nominees focus intently on outreach to religious voters, from Roman Catholics in the Rust Belt to members of the Church of Jesus Christ of Latter-day Saints in Arizona. But the red-blue divide that dominates every Election Day was far from the minds of most spiritual leaders who showed up, regardless of the denomination or tradition they represent, to bolster the free exercise of voting rights.
Webster described his mission as "creating supportive and safe conditions for voters," adding that he and other faith-based polling counselors have adopted "an approach of nonpartisan and multi-faith reverence, and not trying to come with an agenda or push any faith on any person."
The Rev. Liz Edman, an Episcopal priest and poll chaplain shared the sentiment as she blessed voters outside a polling station in Harlem.
"For many people voting is a spiritual matter," Edman said. "And I don't mean their opinions, that's a political issue for them. What I mean is standing up, taking responsibility for our role in our country, being accountable for the community in our county – that's a spiritual experience."
William Green, associate pastor and director of discipleship at Foundry United Methodist Church in Washington, described his own plans to "simply be present" in the streets of the capital as unrelated to which party wins or loses.
"It's not a partisan witness," Green said. "It is a witness for national unity."
Given the active threat of the coronavirus, Webster and others trained to play supporting roles at polling places offer face masks, gloves and hand sanitizer to voters. Yet it's their other job, to help de-escalate in the event of problems, that is getting outsized attention amid worries about potential voter intimidation, especially in swing states.
In nine of those battleground states, the Lawyers and Collars initiative – part of a partnership between multiple faith-based and civil rights groups – has signed up more than 100 religious leaders to serve as poll chaplains at more than 60 voting sites. The initiative also partners faith leaders and lawyers at polling places considered particularly vulnerable to disruption.