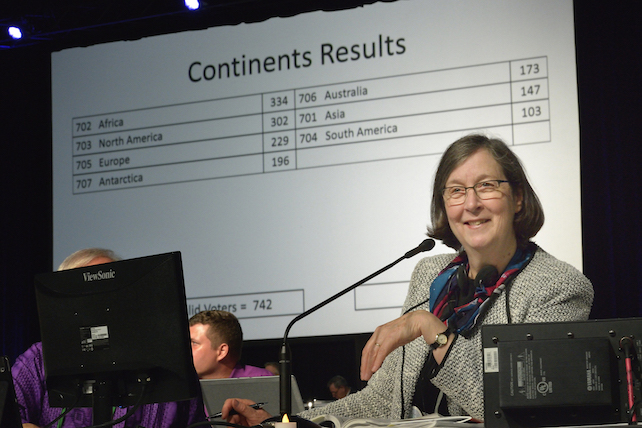 (UMNews.org) General Conference organizers announced that the denomination's top lawmaking assembly — long postponed by pandemic — must wait to meet another year. The global gathering is now scheduled Aug. 29-Sept. 6, 2022, in Minneapolis.
At the same time, the Council of Bishops has announced a special one-day General Conference on May 8.
The special global gathering has only 12 pieces of legislation before it — all basically intended to help the church function until the full General Conference meets.
The virtual gathering is to form a quorum to suspend the rules and allow paper balloting. The vote on suspending the rules will be online. But after the online meeting's adjournment, the delegates will have an extended period in which to vote by paper ballot on the 12 legislative items.
Those ballots will be mailed in, with results to be announced by July 13.
"The exclusive use of paper ballots will allow for the fullest participation of delegates from across the denomination," said Council of Bishops President Cynthia Fierro Harvey in a statement. "This is why the convened session online must be confined solely to gaining permission for the mailed-in paper ballots."
Not on the agenda is any proposal to split the denomination, including the much-endorsed Protocol of Reconciliation and Grace Through Separation.
In October, the Commission on the General Conference named a technology team to look at virtual options for ensuring full participation. The team's report outlined several challenges before such a conference.
Those hurdles include the 16-hour time difference between delegates who live in the Philippines and on the U.S. West Coast, the inequity of internet availability and the difficulty in safeguarding voting.
With the slow rollout of vaccines, continued travel restrictions and limitations of virtual technology, the commission concluded Feb. 20 that a full, 10-day session was not possible this year either in-person or online.
"The commission shared the study team's findings and recommendations with the officers of the Council of Bishops in a collaborative effort to jointly explore how this alternative might be utilized to address critical matters until an in-person gathering of delegates can be safely convened next year," said Kim Simpson, General Conference commission chair, in a statement.