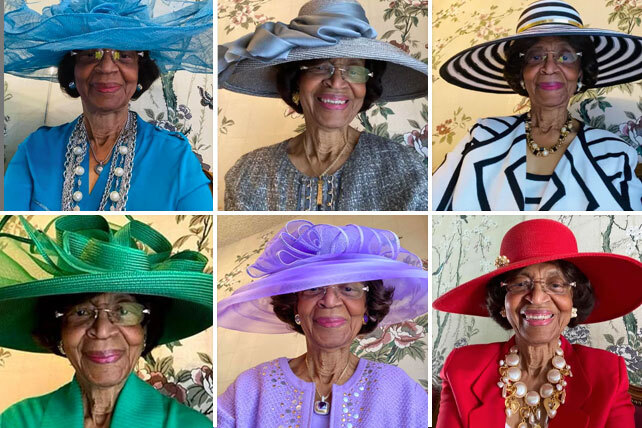 Not since the Royal Ascot or the Kentucky Derby have women's hats gotten this much publicity, but 82-year-old La Verne Ford Wimberly has captured the internet's attention with her church hats and outfits.
No pandemic could stop Wimberly of Tulsa, OK, from showing up in her finest for church in the last year. Not even online church could stand in the way of her dressing up! According to Fox 4 KDFW of Tulsa, since March 2020, the retired educator has dressed up just to watch the service from Metropolitan Baptist Church in Tulsa from her home on Zoom. She posted pics of her outfits and shared encouraging words on social media for 52 weeks beginning in March 2020 at the start of the pandemic. 
Wimberly says getting dressed up helped lift her spirits during lockdowns and while she couldn't attend her church. "I just decided (at) that point, I was just going to get dressed as if I was going to church so I would not get in the habit of just slouching around," Wimberly told CNN affiliate KTUL.
Each week, she posted a selfie on her Facebook page along with a devotional message. "I decided to take a selfie of myself and post it to my church members on Facebook and just kind of offer words of encouragement," Wimberly said. "That if we continue to believe in ourselves, network together, trust in God, keep the faith then we will be okay."
Her "Messages of Hope" included Scriptures and inspiring words for her friends and family on Facebook." Wimberly's church posted on their Facebook page: "So proud of our member, Dr. LaVerne Ford Wimberly."
And the internet is cheering! Peg Keffer posted "You are such a beautiful inspiration. People have become too casual in their dressing. We used to dress up to go to the theatre, downtown and especially to church. Thank you for being such a good example of how we need to behave and dress to honor our Lord."
Marcy Black posted "I would love to see these selfies each week! What a wonderful uplifting spirit this lady brings! I certainly enjoy her sense of style. This is the way ladies should dress for church, to look your best as you present yourself before the Lord. The young gals need a role model, and that is YOU, Dr. La Verne Ford Wimberly! I hope I can find your Facebook page so I can be reminded that I, too, should dress appropriately for church each Sunday. If I set out my outfit the evening before (like you do), I can easily accomplish that. Thank you for bringing brightness and cheer with your elegant photos!"
Thank you for making all of us smile, Dr. Wimberly!