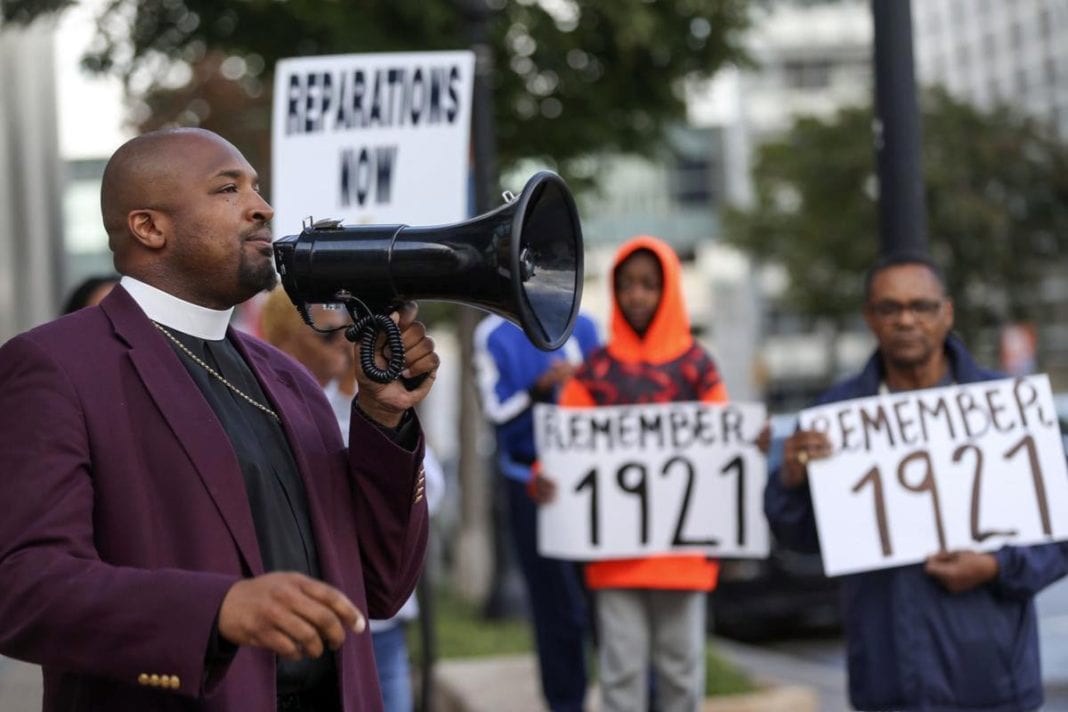 (RNS) — On the first Wednesday in May, as the centennial of the Tulsa massacre approached, the Rev. Robert R.A. Turner stood outside Tulsa City Hall with his megaphone, as he does every week.
"Tulsa, you will reap what you sow and that which you have done unto the least of these my children, Jesus said, you have done also unto me," said Turner, 38, the pastor of Historic Vernon African Methodist Episcopal Church, captured on a video posted on Facebook.
"We come here to say, for your own benefit, you ought to do reparations not tomorrow, not even next week, not next month, not next year, but we demand reparations now!"
Turner's Vernon AME is one of the plaintiffs in a suit filed in September that calls for the city of Tulsa and other defendants to pay reparations to relatives of victims and survivors of the May 31, 1921, massacre that destroyed a part of town known as "Black Wall Street."
Beginning with false rumors spread though the Oklahoma city that a young Black man had assaulted a white female elevator operator, within about 16 hours, a white mob killed an estimated 300 Black people and destroyed thousands of homes, businesses and churches.
As Tulsa pauses to mark the somber centenary in its Greenwood district, where Black Wall Street was located, Turner and other Black people of faith are among those saying the time has come to repay as well as to remember.
The lawsuit argues that the tragedy is a continuing "public nuisance" that Tulsa should remedy through monetary means.
Among the suit's petitions to the Tulsa County District Court are payments to descendants of those who were killed, injured or displaced by the massacre; development of educational and mental health programs for individuals and organizations in Greenwood and North Tulsa; and a scholarship program for "Massacre descendants" for post-secondary education in Oklahoma.