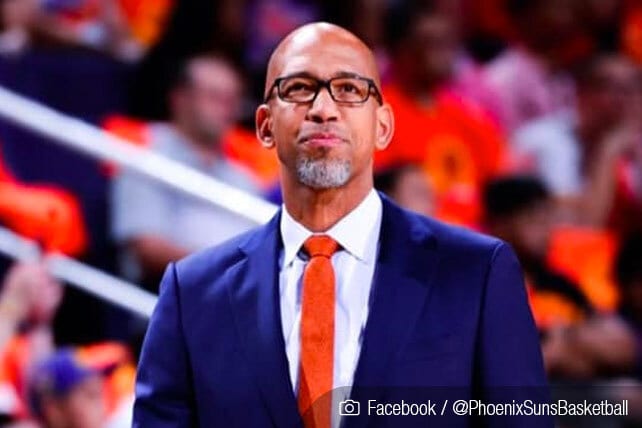 UPDATED July 21, 2021: After a strong two-win start in the best-of-seven 2021 NBA Finals, the Phoenix Suns lost four straight games to the Milwaukee Bucks. But amid the sting of defeat Tuesday night, Suns head coach Monty Williams, an outspoken Christian, revealed his true character. In a move that sports commentators said they'd never seen before, Williams entered his opponent's locker room to offer congrats to the champs.
"I just wanted to come and congratulate you guys as a man and a coach, because you guys deserve it," said Williams, with an arm around Bucks standout and Finals MVP Giannis Antetokounmpo. "I'm thankful for the experience. You guys made me a better coach, and you made us a better team." Just before that visit, Williams fought back tears during a postgame press conference. "I wanted it so bad," he admitted to reporters. "It's hard to process right now."
Through his words and actions, the coach solidified his reputation as a class act. "How can you not love Monty Williams," tweets Barstool Sports. On si.com, Jimmy Traina writes, "Let's hope Monty Williams gets that NBA title one day."
---
ChurchLeaders original article written on July 6, 2021, below:
When Game 1 of the 2021 NBA finals tips off tonight, the Phoenix Suns and Milwaukee Bucks will play for the title of basketball champs. But for Suns head coach Monty Williams, victory through faith in Christ is the ultimate prize.
Williams, 49, was in the news five years ago after experiencing a family tragedy and remains vocal about the impact of faith on his life and career.
Monty Williams: 'The Essence of My Coaching Is to Serve'
After the Suns defeated the Los Angeles Clippers in the Western Conference Finals, Monty Williams was asked how he balances the roles of mentor and task master. "The essence of my coaching is to serve," he said at the post-game press conference. "As a believer in Christ, that's what I'm here for. And I tell [my players] all the time, if I get on you, I'm not calling you out; I'm calling you up. You have potential, and I have to work my tail off to help you reach that potential."
Players have "embraced" that strategy, says Williams, who adds, "It's served us well." The Suns' two-year turnaround demonstrates the success of that approach. In 2019, Williams inherited a team with a 19-63 record. In the NBA Bubble last year, the Suns went 8-0 but missed the playoffs. During its 53-year history, the franchise has made two previous trips to the Finals but won no championships. The Suns' last Finals appearance was in 1993.
Last month, Williams was named coach of the year by the National Basketball Coaches Association, and he finished second in voting for NBA Coach of the Year. Amid the "ups and downs of the NBA," says Williams, working for the Lord and seeking God first "have been a lighthouse for me."
Eulogy for Wife Emphasized Forgiveness, God's Goodness
In 2016, when Williams was an assistant coach for the Oklahoma City Thunder, Ingrid, his wife of more than 20 years, was killed in a head-on car crash. Three of the couple's five young children also were in the car but survived. The driver who caused the collision, who was under the influence of meth, also died.