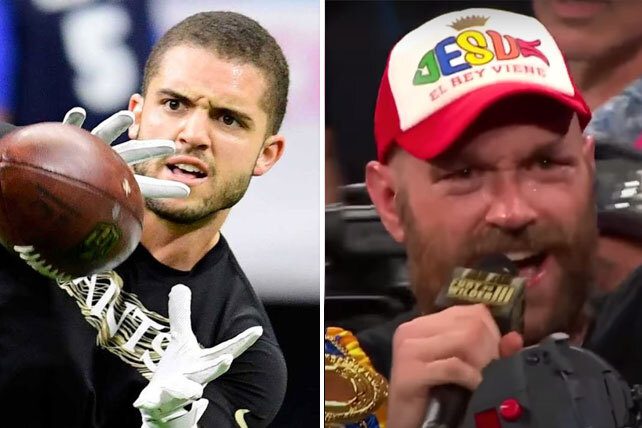 This past weekend, New Orlean Saints wide receiver Austin Carr and two-time world heavyweight boxing champion Tyson Fury both discussed how their faith plays a role in their sports careers. 
Carr spoke about his faith in the context of his retirement decision, while Fury thanked God for his most recent boxing victory. 
Austin Carr Announces Retirement, Following the 'Voice of God'
27-year-old wide receiver Austin Carr has announced his retirement from the NFL after a four-year stint with the New Orlean Saints. 
Carr first entered the NFL as an undrafted free agent with the New England Patriots. Carr was cut from the team during the preseason but joined the Saints later that year. He stayed with the Saints until his retirement. 
In a statement, Carr said, "After much prayer and consideration, I've decided that it's time to turn the page on my career in the NFL. It feels surreal to be moving on from this 20-year stint of lacing up the cleats every fall, but I'm committed to following the voice of God, and it has become clear that up ahead He has a new and exciting future prepared for my family and me."
Carr went on to express gratitude toward his coaches, teammates, agent, family. Thanking his wife, Erica, Carr said, "You've played so many roles and put on so many hats for my sake, I'm frequently humbled by how undeserving I am of your love."
RELATED: Respected Christian Football Coach Urban Meyer Caught in Compromising Video

Carr then turned his gratitude toward God. 
"And to the Lord, who has protected, guided and loved me all along, You are eternally worthy of all glory, honor and praise from these undeserving lips," Carr said, turning to words from Scripture. "Truly, I can sing with the psalmist, 'Not to us, O Lord, not to us, but to your name give glory, for the sake of your steadfast love and your faithfulness!' (Psalm 115:1)."
Carr concluded by passing along words of wisdom that someone once shared with him: "If you want to walk on water, you have to get out of the boat."
Carr added, "It's not always easy, but it's always right for us to put our total trust in Jesus Christ. Here's to the next season of life, stepping out onto the water of His calling."