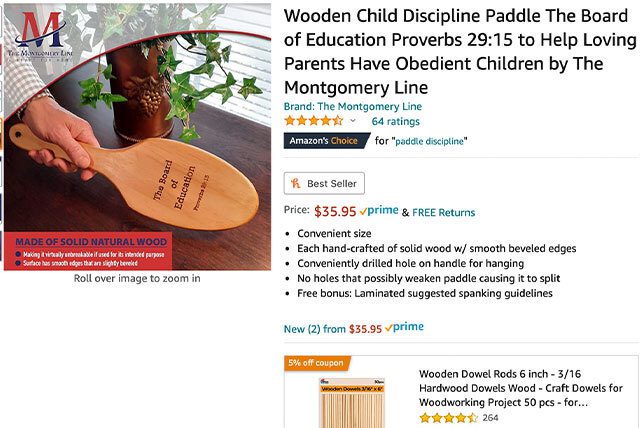 Amazon's algorithm has placed a spanking paddle decorated with Proverbs 29:15 on its "Amazon's Choice" list, prioritizing it in product searches and placing it on recommendation lists. 
According to Amazon, "Amazon's Choice highlights highly rated, well-priced products available to ship immediately." Amazon is known for curating products and personalizing product recommendations across a vast array of categories, apparently including "discipline" paddles. 
Across the head of the paddle are the words "The Board of Education." Beneath this moniker is a reference to Proverbs 29:15, which says, "A rod and a reprimand impart wisdom, but a child left undisciplined disgraces its mother."
Selling for $35.95 by The Montgomery Line, the spanking paddle's product description says that the paddle is designed to "administer loving child discipline for children ages 2-10=." The description also boasts that the spanking paddle is conveniently sized, contains no holes that could weaken or cause it to split, can easily be hung, and includes laminated suggested spanking guidelines.
RELATED: Breaking the Silence: Clergy Address Pandemic's Surge in Domestic Violence
In the "customer questions & answers" section of the Amazon listing, a number of Amazon users raised their concerns. One user asked, "Why is Amazon allowing products designed for child abuse to be sold on its platform?" 
The Montgomery Line responded, "I would like to believe Amazon would not want to endorse or permit items to be sold that would promote child abuse. This discipline paddle is simply an effective tool to be used in a loving, yet respectful way to promote the overall child's wellbeing. (sic) Caring enough to confront should always be done in a calm and controlled way when the child is defiant, to do otherwise is child abuse. Hope that is helpful."
Another user was concerned about the paddle's durability, asking, "[Is] this hard enough to resist multiple uses or does it tends (sic) to break?" The Montgomery Line assured the questioner that the spanking paddle "is extremely durable when used properly. It is intended for loving, yet firm, child discipline. It is a product of very high quality."
RELATED: Wife Who Fought to 'Save Saeed' Says Christian Leaders Failed to Act on Her Abuse Claims
While the spanking paddle has 4.4 out of 5 star rating with 64 customer reviews on Amazon, many are critical of the product. One reviewer wrote, "is no one else creeped out that this exists????" Another said, "For anyone who is genuinely looking for a product to discipline there (sic) child please read this. I promise you there are easier and more effective ways to correct bad behavior than resorting to physical violence. Please read study's (sic) about the effect of this (sic) it will do more harm to your child's development than you think!!!!"