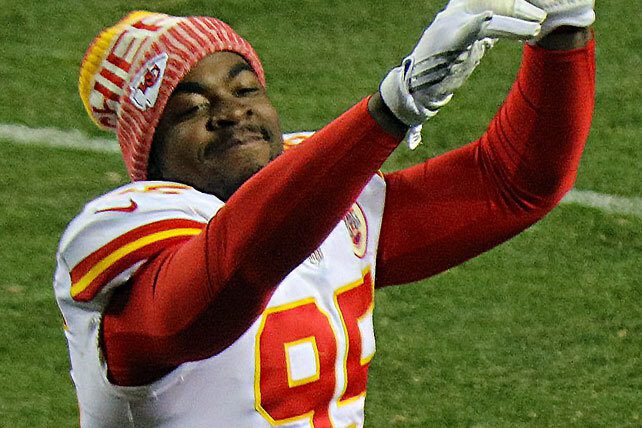 This story is courtesy of Sports Spectrum, and is used by permission.
The Kansas City Chiefs picked up a much-needed win on Sunday over the Dallas Cowboys. One big reason was the play of defensive tackle Chris Jones.
The veteran from Mississippi State recorded a career-high 3.5 sacks to go along with five total tackles, two tackles for loss, a fumble recovery and a pass deflection that led to an interception that sealed a 19-9 win over the Cowboys. The win was the fourth in a row for the Chiefs, and it brought their record to 7-4 as they sit atop the AFC West.
On Jones' wrist during the game were a couple of wristbands, which proclaim his faith in Jesus. One says "I am Second," a phrase he also has in his Twitter bio. The other says "I play for Him." He says he's worn them since entering the NFL in 2016.
"It's a Christian wristband," Jones told Sports Spectrum ahead of Super Bowl LIV. "I am second, God is first. And I also have a wristband [that says] 'I play for Him.' I play for God, Jesus Christ. I'm a very religious guy. I believe my faith is everything and that's what I live by."
Over the past few seasons, Jones has become a rock on the Kansas City defense, and in June 2020, he was rewarded with a four-year, $85 million contract, with $60 million guaranteed.
He shared with Sports Spectrum that his faith has always been important to him, going back to his childhood in Houston, Mississippi.
"My grandma, right behind her house, probably 200 feet, is a church that everyone in my small town, everyone in my neighborhood, goes to," he said. "I was raised in a church. My grandfather used to play guitar. My grandmother has a singing group, so it was a natural thing for us to go to church every Sunday."
Jones also uses his social media presence to share his faith and give God the glory, as he did on Sunday following the win, tweeting, "Thank you God!"
He also has a tweet pinned from 2017 that serves as a declaration for his faith, which says, "Whoever finds God finds life!!!"
He told Sports Spectrum ahead of Super Bowl LIV why he chooses Jesus over everything else.
"Jesus means the Son of God," he said. "The most perfect human being who sacrificed His life for us, so that right there means a lot so our sins can be forgiven."
The Chiefs will look for a fifth straight win on Dec. 5 as they host the division-rival Denver Broncos after their bye week.