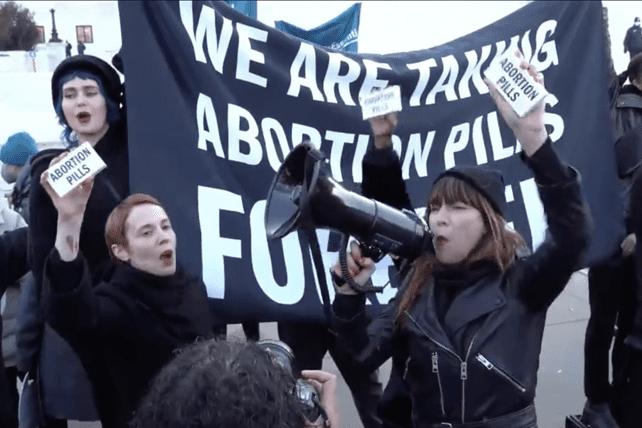 As the United States Supreme Court heard oral arguments in a pivotal abortion case on Wednesday, December 1, a group of pro-choice activists staged a demonstration outside the building that included chants for abortion pills and a ceremonial partaking of pills as a group. 
The Twitter account "Shout Your Abortion" posted a video of the protest, saying, "ABORTION PILLS ARE IN OUR HANDS & WE WON'T STOP. Taking Mifepristone (sic) at the Supreme Court today." Mifepristone is a progesterone blocker that can end a pregnancy that is less than 10 weeks along.
In the video, a group of women can be seen standing in front of a banner which read, "We are taking abortion pills forever" and holding boxes labeled "abortion pills." With one woman leading, the crowd chanted, "Abortion pills are in our hands and we won't stop," followed by chants of "Abortion pills forever." At the end of the chant, the women can be seen pulling pills out of the boxes and consuming them. It is unclear whether these pills were actually mifepristone or simply props. 
As this group of demonstrators stood outside the Supreme Court Building, inside, the justices were hearing oral arguments in the case of Dobbs v. Jackson Women's Health Organization, which centers on a 2018 Mississippi law that banned abortion at 15 weeks of pregnancy, except for in cases of medical emergencies or severe fetal abnormality. 
Many are predicting that this case—along with Whole Woman's Health v. Jackson, which centers on the constitutionality of Texas' Heartbeat Act—could be one of the most consequential rulings with regard to abortion since Roe v. Wade. Because of nominations made by Republican president Donald Trump, the Court now leans conservative, giving many pro-life advocates confidence that these rulings will deliver major victories for the pro-life movement.
RELATED: Supreme Court Hears Oral Arguments in Case that Could Overturn Roe
As the proceedings have begun, a number of Christian leaders have expressed their hope that the final ruling will result in more limited access to elective abortion. 
Editor-in-chief of Outreach Magazine Ed Stetzer tweeted on Wednesday, "Pray for the Supreme Court today. The U.S. has some of the world's most extreme abortion laws, one of seven countries (China, North Korea, and others) with similar laws…The root of these extreme laws is Roe v. Wade. It's time to overturn Roe."
"Will this nation survive the stench of our extreme abortion laws? 100 years from now, people will look back in horror at how we treated the unborn in our time," Stetzer added in a later tweet. "Lord, awaken the conscience of this nation." 
Stetzer's words were in response to a rhetorical question posed by Justice Sonia Sotomayor: "Will this institution survive the stench that this creates in the public perception that the constitution and its reading are just political acts?" Sotomayor is a part of the Supreme Court's liberal bloc.