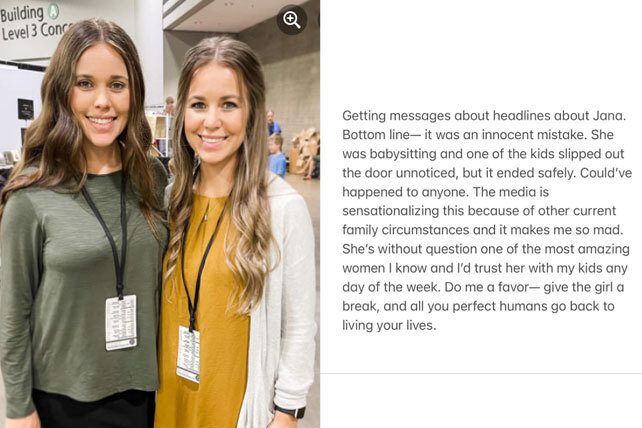 UPDATED Dec. 14, 2021: On Monday (December 13), reality star Jessa Seewald took to Instagram to defend her sister Jana Duggar in response to the news about Duggar's child endangerment charge, which came to light earlier this week. In her Instagram story, Seewald revealed that the charge stemmed from an incident where a child snuck out of the house while Duggar was babysitting. 
In the post, Seewald said, "Getting messages about headlines about Jana. Bottom line— it was an innocent mistake. She was babysitting and one of the kids slipped out the door unnoticed, but it ended safely. Could've happened to anyone."
"The media is sensationalizing this because of other current family circumstances and it makes me so mad," Seewald went on to write, alluding to the conviction of her brother, Josh Duggar, on two child pornography charges. Josh Duggar's conviction came just one day before Jana Duggar's charge came to light. Jana was charged with child endangerment in September and has pleaded not guilty. 
Continuing to defend her sister, Seewald said, "She's without question one of the most amazing women I know and I'd trust her with my kids any day of the week. Do me a favor— give the girl a break, and all you perfect humans go back to living your lives."
---
ChurchLeaders original article, written on Dec. 13, 2021, below:
Reality television star Jana Duggar has been charged with endangering the welfare of a minor in Arkansas, according to a Fox News report. News of the charge came just one day after Jana's brother, Josh Duggar, was convicted on one count of receiving child pornography and one count of possessing child pornography.
Jana Duggar, who is 31, was charged in September and has pleaded not guilty. The charge could be classified as "a Class A or B misdemeanor." If convicted, Duggar could face jail time, although the sentence being reduced to a fine is also a possibility. The details surrounding the charge have not been made public, as is a common practice in such cases to protect the children involved.
There is no evidence to suggest that Jana Duggar's charges are related to those of her brother, Josh Duggar. 
Both Jana and Josh Duggar first came into the public eye when their family became the subject of TLC's "17 Kids and Counting," which eventually turned into "19 Kids and Counting." The reality show followed the journey of Jim Bob and Michelle Duggar and their ever growing family. The Duggar couple is part of the conservative Christian "Quiverfull" movement, which sees large families as a blessing from God and thus refrains from all forms of birth control. 
RELATED: UPDATE: Josh Duggar Found Guilty of Possessing Child Pornography
Jim Bob Duggar served in the Arkansas State House of Representatives from 1999 to 2003 and is currently running for office in the Arkansas State Senate. 
"19 Kids and Counting" ran from 2008 to 2015, when it was cancelled amid allegations that Josh Duggar had molested five girls, including four of his own sisters. The case was never fully investigated, as the statute of limitations had expired by the time the allegations came to light.