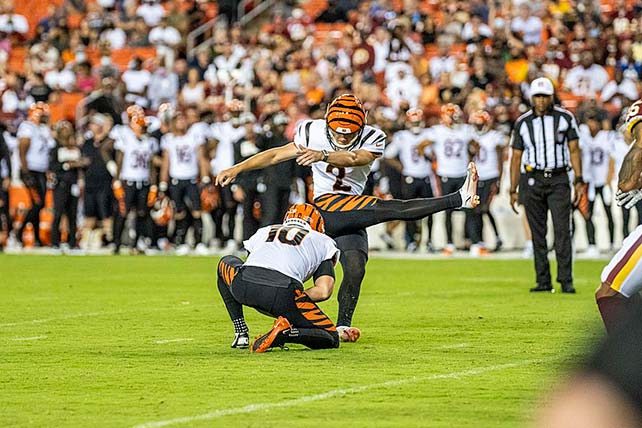 FORT PAYNE, Ala. (BP) – Long before his heroics Saturday night put the Cincinnati Bengals into their first AFC Championship game in 34 years, Evan McPherson had delivered under the lights.
A lifelong soccer player, McPherson was a freshman when he made the header in sudden death overtime to bring a state championship to Fort Payne High School. But he and his brothers, Logan and Alex, became best-known for their heroics on the football field, giving the Wildcats a consistency in the kicking game for 13 straight years other coaches can only dream of.
McPherson's 52-yarder as the game ended – which followed one from 54 that gave the Bengals a 9-6 halftime lead – beat the top-seeded Tennessee Titans Jan. 22 during a bonkers weekend of playoff football many are calling the best ever. His "God is good" T-shirt during the post-game press conference and use of Scripture on social media point to his faith that grew while a member of the youth group at First Baptist Church in his hometown.
Speaking with Baptist Press shortly after arriving home from Nashville yesterday, parents LaDon and Amber spoke of the natural calm their middle son has always shown. And as comfortable as their boys were on a ball field, debate exists over their excitement for being on stage during skits with the church's drama team, which Amber directs.
RELATED: 12 NFL Players Who LOVE Jesus (and Football)
"You kind of forced them to do it," said LaDon.
"What in the world … no I didn't," Amber countered. "I just 'encouraged' them to."
But quickly, she made a slight concession.
"OK, they were told they were going to do it," she said. "They didn't really have an option."
What with a busy schedule that included hundreds of miles driving to kicking camps and college visits, credit is due the McPhersons for "encouraging" church involvement like Sunday school, choir tours and yes, skits.
"They enjoyed it once they got up there," Amber said. "Evan handled a lot of the comedy. He's hilarious and has good timing."
Talking in front of others was once a struggle area for him, they said. Not anymore.
"I credit her with getting them on stage," LaDon added. "If you watch Evan talk today on the platform he's been given, you see how he's able to handle himself and answer questions."
That platform has exploded in the past 48 hours, with McPherson's Instagram account doubling to more than 85,000 followers. Interview requests have rolled in from the expected sports-centric outlets, but also others like Nickelodeon, his parents said.
In the meantime, faith remains a priority. McPherson and his fiancé, Gracie Groat, began dating when they were in the ninth and eighth grades, respectively. Plans are to get married next year when Gracie finishes her biomedical sciences degree at Auburn University. In the meantime, staying in touch includes long-distance Bible studies together.
McPherson's rise to becoming the nation's No. 1-rated high school kicker in 2018 included a then-state record 60-yard field goal. He went on to a stellar career at the University of Florida, making 149 out of 150 extra point attempts and 51 out of 60 field goals. McPherson opted for the draft after his junior season, becoming the only kicker taken when Cincinnati snagged him in the fifth round.
RELATED: NFL Coach Frank Reich Preaches During News Conference, Quotes Worship Song
Staying cool under pressure and a bubbling confidence are necessities for kickers, who are relegated to the sideline for most of the game before being called on to save the day. The one nicknamed "Shooter" and "Money Mac" has no shortage of either.